WINNER!
THE WEB MARKETING ASSOCIATION IS PROUD TO PRESENT THIS 2014 MOBILEWEBAWARD FOR OUTSTANDING ACHIEVEMENT IN MOBILE DEVELOPMENT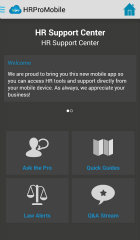 To: HRAnswerLink, Inc.
For: HRProMobile
Award: Best Consulting Mobile Application
Click here to see entry creative
About the Entry


We are excited to be offering the first branded mobile app designed to help small and mid-sized businesses solve their employee management and HR compliance issues. Our app puts our team of certified HR Pros at the fingertips of 60,000 business owners and managers across the country. It also provides their business service providers – our resellers and partners – with a powerful marketing tool. The app can be customized and branded by the business service provider, including a custom logo, welcome message, and contact information.

Workforce Magazine recently called 2014 "the unofficial year of mobile HR technology," and we are applying for this award to bring greater exposure to our suite of HR solutions, our new mobile platform, and the overall trend within HR towards mobile technology. Our audience is the nearly 600 business service providers (payroll companies, insurance brokers, accountants, etc.) with whom we already partner, and the thousands more out there with small and mid-size business clients who are looking for simple and efficient HR solutions.
Award Credits
Contributors:
| | |
| --- | --- |
| Founder & Co-CEO: | Dennis Abraham |
| President & Co-CEO: | Nathan Christensen |
| Director of Technology: | John Ratcliff |
| Director of Creative: | Alain Schotland |
| | |
| | |
| | |
| | |
| | |
| | |