WINNER!
THE WEB MARKETING ASSOCIATION IS PROUD TO PRESENT THIS 2014 MOBILEWEBAWARD FOR OUTSTANDING ACHIEVEMENT IN MOBILE DEVELOPMENT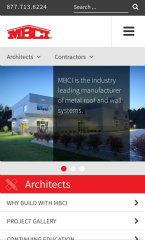 To:
For: MBCI
Award: Best Manufacturing Mobile Application
Click here to see entry creative
About the Entry


Our goal was to enhance the usability and functionality of our website so that it became an invaluable tool for our customers and our sales representatives. A majority of our clientele, architects and contractors, are on jobsites frequently and conduct a fair amount of business with smartphones. For this reason we invested heavily on developing a responsive website that was fluid and intuitive, making the overall customer experience improved on mobile and tablet devices. Some of the tools that we added specifically to optimize the mobile experience is geotargeting a user's location so that they can have immediate access to their sales representative, allowing them to call or email them with a request immediately. We also enhanced the Project Gallery so that users can easily share projects that inspire them via email or social media. We also designed this site with ecommerce in mind and have laid the foundation for adding this functionality in the future.
Award Credits
Contributors:
| | |
| --- | --- |
| Director of Marketing: | Laura Phelan |
| Brand Manager: | Erin Zaske |
| Marketing Coordinator: | Amy Crenan |
| Business Systems Analyst: | Brianna Ritter |
| Digital Marketing Intern: | Mallory Collins |
| Senior Program Manager: | Clare Cooper |
| Account Manager: | Kalie Trueper |
| Manager of Interactive Services: | Matt Alberty |
| Senior Developer: | Kyle Regan |
| Vice President of Account Development: | Roy Smith |