WINNER!
THE WEB MARKETING ASSOCIATION IS PROUD TO PRESENT THIS 2014 MOBILEWEBAWARD FOR OUTSTANDING ACHIEVEMENT IN MOBILE DEVELOPMENT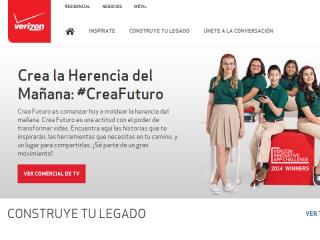 To: Lopez Negrete Communications
For: Crea Futuro
Award: Best Internet Service Provider Mobile Website
Click here to see entry creative
About the Entry


In celebration of Hispanic Heritage Month, Verizon Communications recently debuted its "Heritage of Tomorrow" microsite, http://www.verizon.com/creafuturo/en/. This initiative aims to spotlight Hispanic individuals, groups and ideas making a positive impact in their communities by building a better future through the use of technology.

As time progresses, we will have six real stories told through a series of videos and images introduce Verizon consumers to six distinctive ideas that have improved the lives of others. Creative visuals and real-life conversations blend with fun and engaging dialogue to bring these individuals to life, in their own words. The end result is a thought-provoking representation of going beyond the norm to create lasting legacies.

The site idea is simple: human ingenuity paired with Verizon's technology can create positive change. It's also a campaign about celebrating untold stories, which meant the videos had to be compelling and shareable, while also conveying clearly and directly the relationship between Verizon and the Latinos sharing their stories.

Lopez Negrete Communications will create more than 30 videos, using a blend of styles from documentary narratives to intimate one-on-one interviews, and will push the digital aspect of the campaign through the creation of a unique English- and Spanish-language microsite. Campaign messaging is published on the Spanish-language Verizon Wireless Twitter account and the Somos Verizon FiOS Facebook and Twitter accounts. The landing page offers one convenient place to experience all the videos, sharing how technology can positively affect the future.

Award Credits
Contributors:
| | |
| --- | --- |
| President, CEO: | Alex Lopez Negrete |
| Chief Creative Officer: | Fernando Osuna |
| Executive Creative Director: | Vicent Llopis |
| Executive Director, Digital: | Leonardo Basterra |
| Director Digital Development: | Chad Shanehchian |
| Associate Creative Director: | Arturo Colón |
| Sr. Art Director: | Ricardo Romero |
| Jr. Copywriter: | Holly Tuggy |
| Senior Web Developer: | Yuji Iwanaka |
| Sr. Digital Producer: | Brian Truax |