WINNER!
THE WEB MARKETING ASSOCIATION IS PROUD TO PRESENT THIS 2014 MOBILEWEBAWARD FOR OUTSTANDING ACHIEVEMENT IN MOBILE DEVELOPMENT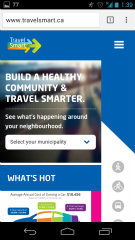 To: TransLink
For: TravelSmart
Award: Best Transportation Mobile Website
Click here to see entry creative
About the Entry


TravelSmart helps Metro Vancouverites make better travel choices by providing tips and tools around carpooling, cycling, walking and taking transit. The TravelSmart website, formed in 2010, needed a design refresh to focus on a younger, tech-savvy audience who use mobile devices to access web content.
Part of the challenge in moving towards a mobile experience is the limited amount of information that can be displayed and interacted with on small screens.

After an analysis of the traffic data and previous engagement, the design of the new website pars down the messaging and content to focus on hyper-localization. Using the underlying structure of a blog, content is now displayed based on the users' geographical community, using their internet browser settings. This allows for very relevant and community-focused information to be displayed, showcasing what users can cycle, carpool, walk and take transit to within their neighbourhood. This mobile-focused refresh enables localized communities to be built in unison across a large metropolitan area.

Award Credits
Contributors:
| | |
| --- | --- |
| Sr. Digital Marketing Advisor: | Joel Marc |
| Supervisor, Transportation Demand Management: | Patricia Lucy |
| | |
| | |
| | |
| | |
| | |
| | |
| | |
| | |