WINNER!
THE WEB MARKETING ASSOCIATION IS PROUD TO PRESENT THIS 2014 MOBILEWEBAWARD FOR OUTSTANDING ACHIEVEMENT IN MOBILE DEVELOPMENT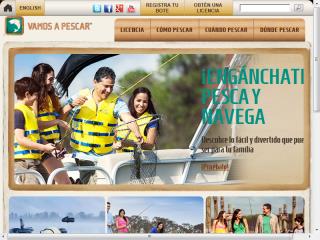 To: Lopez Negrete Communications
For: vamosapescar
Award: Best Non-Profit Mobile Website
Click here to see entry creative
About the Entry


Experiencing the thrill of the catch while also learning about the importance of conservation – these were VamosAPescar's principal goals. And there were other clear measures of success: increased fishing license sales, increased boat registrations, and an overall 10% increase in traffic across digital assets. The target segment consists of bicultural Latinos who are family-oriented "outdoors lovers" between 25 and 45 who plan activities around budget and time constraints. With camping, backpacking and hiking already among their frequent activities, members of this group regularly visit lakes and beaches, but seldom fish. Dubbed the "Happy Hikers," our target sees themselves as goodhearted, affectionate, and loving nurturers. The campaign's key message was: "Fishing and boating will be the best part of what you love." The goal was to get fishing and boating into the consumers' minds at the time they are planning their next outdoor activities. However, in comparison to other outdoor activity campaigns/brands, we emphasize the idea that boating and fishing bring the family together while creating lifetime memories. Our goal was to deliver 350,000 website visits over the fiscal year. To meet our goal, 145,830 site visits must have been completed by the end of August, but vamosapescar.org has tracked more visits, with 181,106 site visits in only 5 months. We developed a baseline of an average 29,166 site visits per month, meaning that the website is pacing at 124% of the year's site visits. Mobile and tablet provided for 81% of the site's fishing license goal conversions compared to desktop.
Award Credits
Contributors:
| | |
| --- | --- |
| President, CEO: | Alex Lopez Negrete |
| Chief Creative Officer: | Fernando Ozuna |
| Executive Creative Director: | Vicent Llopis |
| Executive Director, Digital: | Leonardo Basterra |
| Director Digital Development: | Chad Shanehchian |
| Sr. Art Director: | Ricardo Romero |
| Jr. Copywriter: | Holly Tuggy |
| Assistant Account Executive: | Greg Valdez |
| Digital Producer: | Valerie Puentes |
| Director of Consumer Insights & Planning: | Ed Cantu |