WINNER!
THE WEB MARKETING ASSOCIATION IS PROUD TO PRESENT THIS 2014 MOBILEWEBAWARD FOR OUTSTANDING ACHIEVEMENT IN MOBILE DEVELOPMENT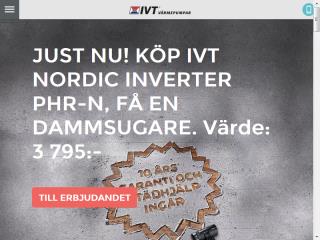 To: IVT Värmepumpar
For: ivt.se
Award: Best Home Building Mobile Website
Click here to see entry creative
About the Entry


The new responsive website for ivt.se is targeted towards consumers looking to buy a heat pump or to service an existing installation. It was launched in September with the goal to generate 2x the number of leads of the previous website for a full ROI in less than 12 months.

Given the very high share of visits from people on mobile devices (close to half of all traffic is from smartphone and tablet devices), it was obvious the new ivt.se needed to be responsive in order to deliver leads as well as a high visitor satisfaction ratio. Images adapt, as do text sizes and menu navigation, even the forms adapt to be easy to fill in also on a small screen. The top menu "bread crum" is always locked and "contact us" is never lost, even on smartphone screens. Conversion rates have improved dramatically.

In terms of content the ambition was to deliver even more than leads and customers expect in order to support them before, during and after the purchase. A lot of work was therefor put into developing educational material for how different heat sources work, what to think of when considering buying a heat pump, how to practically approach it, as well as a building a configurator to simplify identification of what heat pump is best suited to a visitors' specific need. To help existing customers a self-service section was added with films aimed at those wanting to perform service themselves in stead of hiring a professional.

The combination between a clear online strategy, a solid concept, great responsive UX and great content is a website that one month after launch is delivering above and beyond the 2x lead target, and has been since the day of launch with no signs of dropping. It would be a worthy winner in this category.
Award Credits
Contributors:
| | |
| --- | --- |
| Country Manager, IVT: : | Cai Essén |
| Marketing Manager, IVT: : | Styrbjörn Drugge |
| Marketing Responsible, IVT:: | Astrid Holmer |
| Online Responsible, IVT:: | Catarina Svensson |
| Project Manager, Zooma:: | Karin Myhrén |
| Interaction Designer, Zooma: : | Sicheng Chen |
| Senior Art Director, Zooma: : | Mattias Granat |
| Online Strategist, Zooma:: | Anders Björklund |
| Online Strategist, Zooma:: | Stellan Björnesjö |
| | |