WINNER!
THE WEB MARKETING ASSOCIATION IS PROUD TO PRESENT THIS 2014 MOBILEWEBAWARD FOR OUTSTANDING ACHIEVEMENT IN MOBILE DEVELOPMENT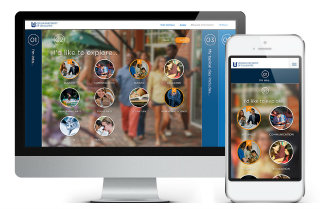 To: Noble Studios
For: Queens University of Charlotte Personalized Tour
Award: Best University Mobile Website, Best of Show Mobile Website
Click here to see entry creative
About the Entry


Queens University of Charlotte wanted prospective students to experience Queens University in a personalized, dynamic way. The majority of Queens University's students are from within the region, but only 30 percent of prospective students know about the University – what the campus is like, where it is, what it has to offer, etc.

Queens turned to Noble Studios to capture the feeling of being at the University virtually. Noble designed and developed an interactive campus tour with customizable components so prospective students could envision their college experience. They can select their area(s) of study and interest. Students are then given an interactive grid of results based on their answers. They can edit, share and email their experience at any time. If the students choose to have their experience emailed, Queens University is notified and will contact each individual student with a personal email with interests in mind. This helps students see how they will fit in within the campus culture and encourage a campus visit. Ultimately this will assist with increasing enrollment rates.