WINNER!
THE WEB MARKETING ASSOCIATION IS PROUD TO PRESENT THIS 2014 MOBILEWEBAWARD FOR OUTSTANDING ACHIEVEMENT IN MOBILE DEVELOPMENT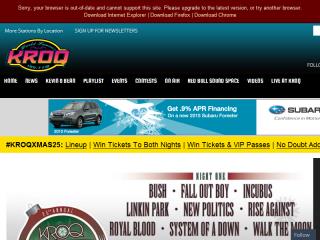 To: CBS Local Digital Media
For: Best Radio Mobile Website: KROQ
Award: Best Radio Mobile Website
Click here to see entry creative
About the Entry


Best Radio Mobile Website: KROQ KROQ.com serves as the digital destination for CBS RADIO's world famous KROQ in Los Angeles. On the site users can find an array of information including latest music headlines, show updates, playlists and podcasts. By creating a digital destination for KROQ listeners, CBS Local a division of CBS Radio has enhanced user experience. The website is divided into eight categories: News, Kevin and Bean, Playlists, Events, Contests, On-Air, Red Bull Sound Space and Street Team. News highlights the latest trending topics within the alternative and rock community. The site enhances commentary discussed on the show by creating content pieces based off the topics covered and highlighting key interviews through audio segments. The site also creates "hubs" that focus on marquee events including Weenie Roast, Coachella, Grammys and #KROQXMAS. The Kevin and Bean section is the digital extension of the fan favorite show. It is in this sector that users are able to stream the show from a desktop or mobile device. Listeners are also able to download podcasts that include bits and segments from the daily show. Playlists highlight the most popular songs on the station, it is here that users can find tickets to see their favorite artists or, through the platform DEMAND IT, request that a particular artist or band come to Los Angeles for a show. The Red Bull Sound Space is an intimate concert venue that has housed artists such as Arcade Fire, Linkin Park and Thirty Seconds to Mars. Through KROQ.com fans can watch past performances, view photo galleries and find concert recaps. In summary, KROQ.com gives fans another opportunity to interact with their favorite entertainment radio station and show personalities.