WINNER!
THE WEB MARKETING ASSOCIATION IS PROUD TO PRESENT THIS 2014 MOBILEWEBAWARD FOR OUTSTANDING ACHIEVEMENT IN MOBILE DEVELOPMENT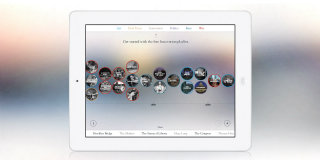 To: Big Spaceship
For: Ken Burns
Award: Best Entertainment Mobile Application
Click here to see entry creative
About the Entry


Ken Burns is America's definitive documentarian, and we joined forces to bring his work to the digital realm. Drawing on his entire 25-film oeuvre, it provides an experience that could only happen on an iPad. Far more than a library of his films, it's a meticulously curated investigation of the most important themes in American history: Art, Race, War, Innovation, and Politics.

Our research showed potential for the product to deliver value to three distinct audiences. First, the app is ideal for Ken Burns superfans—those who enjoy the films and are looking for something to enhance the experience. Second, we spoke to teachers to learn how to make the app a perfect supplement for the classroom. Third were the technology early adopters—those excited by cutting-edge apps but might not be familiar with Ken Burns films. We mapped the needs of each of these users to determine the core feature set.

Content is easy to discover, and by limiting the length of each playlist to that of a television episode, it delivers an immersive, lean-back experience that can be consumed in one sitting. In designing the UI, we minimized menus and provided multiple ways to navigate the content while keeping the interface ruthlessly simple.

At launch, the app includes six playlists and about 3-and-a-half hours of video. It was an App Store Editor's Choice and quickly surpassed 150,000 downloads in the first month, ensuring Ken Burns' work will be appreciated by a new generation of fans.