WINNER!
THE WEB MARKETING ASSOCIATION IS PROUD TO PRESENT THIS 2014 MOBILEWEBAWARD FOR OUTSTANDING ACHIEVEMENT IN MOBILE DEVELOPMENT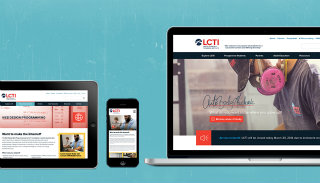 To: MI Digital Agency
For: Lehigh Career & Technical Institute
Award: Best Education Mobile Website
Click here to see entry creative
About the Entry


Like other educational institutions, Lehigh Career & Technical Institute (LCTI) needed its website to be a hub of information for current and prospective students, parents, and staff members. However, they had a unique challenge. Being home to two very different schools – the Career and Technical High School and the Adult Workforce Education School – required LCTI's website to appeal to both young students and adult learners while leading each audience to the right information.

Prior to working with MI Digital Agency, LCTI's website was hard to navigate, static, and difficult for staff to update. It blended public facing and internal content that was confusing for the audience. MI Digital worked with LCTI to create an engaging new site that is user-friendly and responsive.

The new site gives the audience a look into the student experience. All internal content was transferred to LCTI's Intranet to keep the public site external-focused. Because the site is built on a responsive framework, content management is easy and only needs to be done once. LCTI staff use the site to share class details, photos, videos, and career opportunities.

Over 30 percent of LCTIs users access the website from a mobile device. Now users can:
• Browse areas of study
• Watch videos from courses
• Get teacher contact information
• Get directions
• View upcoming events
• Sign-up for the LCTI newsletter
• Request information about enrollment

The site improved class enrollment through the use of forms and lead capturing. Since the launch, organic traffic, total traffic, and unique visitors all increased.

To learn more about MI Digital, please visit: http://www.midigitalagency.com/.

Award Credits
Contributors:
| | |
| --- | --- |
| President (MI Digital): | Michael Carroll |
| VP, Experience (MI Digital): | Dave Snyder |
| VP, Technology (MI Digital): | Jeff Metter |
| Senior Account Strategist (MI Digital): | Lisa Zwikl |
| Digital Marketing Consultant (MI Digital): | Katrina Sorrentino |
| Interactive Designer (MI Digital): | Juan D. Bolaños |
| Front-end Developer (MI Digital): | Jonathan Au |
| Public Relations Coordinator (LCTI): | David Bracetty |
| | |
| | |