WINNER!
THE WEB MARKETING ASSOCIATION IS PROUD TO PRESENT THIS 2014 MOBILEWEBAWARD FOR OUTSTANDING ACHIEVEMENT IN MOBILE DEVELOPMENT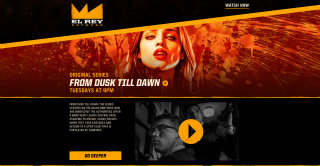 To: RED Interactive Agency
For: El Rey Network
Award: Best TV Mobile Website
Click here to see entry creative
About the Entry


ElReyNetwork.com is El Rey's official destination online. The site educates users on the new channel, its mission statement, brand story, and licensed & original programming. ElReyNetwork,com is mobile first, mirroring the consumption habits of our audience, and fully responsive for tablet and desktop. Original Series pages are chock full of content with galleries, cast and character bios, crew, episodes synopsis and trailers. Users have access to the full programming schedule directly from the site (especially great for mobile), as well as the option to filter by show or day.
Award Credits
Contributors: