WINNER!
THE WEB MARKETING ASSOCIATION IS PROUD TO PRESENT THIS 2014 MOBILEWEBAWARD FOR OUTSTANDING ACHIEVEMENT IN MOBILE DEVELOPMENT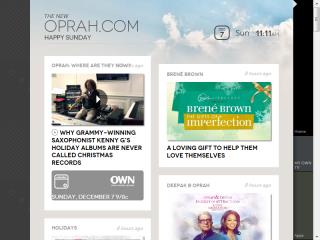 To: RED Interactive Agency, OWN Digital, Harpo Studios
For: Oprah.com
Award: Best Media Mobile Website
Click here to see entry creative
About the Entry


OWN Digital and Harpo Studios teamed up with RED Interactive Agency to re-imagine the centerpiece to Oprah's digital world: Oprah.com. The challenge was to build a more engaging and robust experience for fans, as well as a platform that would encourage them to live their best lives possible.

From its clean, simple layout, to its easy search and intuitive navigation, the new Oprah.com breaks down every boundary between users and the content they want.

The homepage functions as a social media dashboard, with a live feed of content from around the Oprah universe, and personal messages from Oprah, right to her fans. It also features a customizable navigation bar, allowing users to drag site sections (or "Apps") to the bar for a completely personalized site interface. Each App offers unique content and lessons inspired by Oprah, her friends and her mentors, with practical tools for applying those lessons in everyday life.

Further, the site reaches the target audience where they spend the most time: on their devices. Oprah.com is cross-platform compatible and designed specifically with tablets in mind.

More than a site, the new Oprah.com has become a true, digital expression of the close, personal relationship shared by Oprah and her fans.