WINNER!
THE WEB MARKETING ASSOCIATION IS PROUD TO PRESENT THIS 2014 MOBILEWEBAWARD FOR OUTSTANDING ACHIEVEMENT IN MOBILE DEVELOPMENT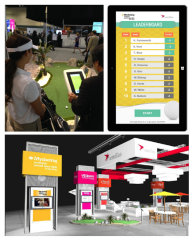 To: Klick Health
For: Leaderboard Challenge
Award: Best Game Site Mobile Application, Best Pharmaceuticals Mobile Application
Click here to see entry creative
About the Entry


The 2014 Annual Meeting of the American Urological Association (AUA) offered an opportunity to play into the competitive nature of physicians, through a central gamification aspect as the primary booth driver for AUA.

The Astellas interactive Leaderboard Challenge combines a digital product quiz and a physical putting game with three putting holes, one for each of Astellas' three brands being promoted at the 2014 AUA Annual Meeting: XTANDI® (enzalutamide), VESIcare® (solifencin succinate) and MYRBETRIQ® (mirabegron).

Competitor scores were posted on large, highly visible leaderboards throughout the booth, which encouraged participants to return, retake the digital quiz and improve their knowledge, and, in turn, their scores throughout the four-day conference.

Participants could play the Leaderboard Challenge as often as they chose – the game saved user data and selected three different questions from a pool of 10-15 for each brand, increasing the likelihood that participants were tested on different information each time they played. Additionally, the question algorithm pulled at least one safety question for each new question set presented.

Traffic was driven to the booth and Leaderboard Challenge via a custom email and website banners that ran before, during and shortly after the AUA conference.

The interactive Leaderboard Challenge was a huge success during the AUA event, capturing 549 unique registrants who took on a total of 752 challenges, with about half of the health care practitioners ("HCP") who played the game opting-in to receive future email updates from Astellas.

Award Credits
Contributors:
| | |
| --- | --- |
| Senior Web Developer: | Andrew Carreiro |
| Senior Project Manager: | Sarah Jarrett |
| Application Developer: | Alex Chesser |
| Medical Editor: | Olga Vorobyova |
| Designer: | Gabriela Rank |
| Manager, Quality Assurance: | Sharmila Sivasankaran |
| Art Director: | Erin Milnes |
| Editor: | Garth Simmonds |
| Quality Assurance Specialist: | Wilbert Whang |
| User Experience Architect: | Luis Aguila |