WINNER!
THE WEB MARKETING ASSOCIATION IS PROUD TO PRESENT THIS 2014 MOBILEWEBAWARD FOR OUTSTANDING ACHIEVEMENT IN MOBILE DEVELOPMENT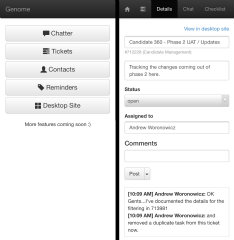 To: Klick Health
For: Genome
Award: Best Intranet Mobile Website
Click here to see entry creative
About the Entry


As a data-driven digital marketing agency, Klick's internal processes are orchestrated through Klick's proprietary Enterprise Operating System (EOS) Genome. This award-winning system is a key differentiation factor in working at Klick. The accompanying mobile application allows on-the-go employees to access Genome's most-used features - such as tickets, chat, and Chatter - out internal social stream - from anywhere, which vastly improves productivity and turnaround time.
Award Credits
Contributors:
| | |
| --- | --- |
| Chief Operating Officer: | Aaron Goldstein |
| Senior Director, Internal Operations: | Benjamin Nadler |
| Director, Business Process & Systems: | Andrew Woronowicz |
| Chief Technical Strategist: | D'Arcy Rittich |
| Technical Architect: | Rey Crisóstomo |
| Senior Web Developer: | Leo Horie |
| Senior Application Developer: | Rob Brander |
| Genome Developer: | Alex Chesser |
| Senior Application Developer: | Alexey Davydov |
| | |