WINNER!
THE WEB MARKETING ASSOCIATION IS PROUD TO PRESENT THIS 2014 MOBILEWEBAWARD FOR OUTSTANDING ACHIEVEMENT IN MOBILE DEVELOPMENT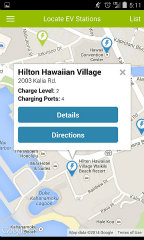 To: Hawaii Information Consortium, LLC
For: EV Stations Hawaii
Award: Best Energy Mobile Application
Click here to see entry creative
About the Entry


EV Stations Hawaii was created in partnership with the Hawaii State Energy Office and Hawaii Information Consortium. The mobile application is designed to help drivers locate publicly available EV charging stations statewide. EV Stations Hawaii provides drivers with EV charging station locations and mapping directions across all four counties. Users can also search for EV stations throughout Hawaii or locate nearby EV charging stations.

"The EV Stations Hawaii app is a great example of our state using new technology to advance the widespread use of electric vehicles in Hawaii," said Gov. Neil Abercrombie. "Convenience is key to further the adoption of EVs, which are part of Hawaii's clean transportation future and move us toward reducing our dependency on imported oil."

"The adoption of electric vehicles is a key component in the state's aggressive pursuit of 70 percent clean energy by the year 2030," explained State Energy Administrator Mark Glick. "We hope the user-friendly app will help to deflate any range anxiety EV drivers may have by conveniently providing them with public charging station locations on-the-go."

The free app underwent a redesign in 2014 and is available for Apple and Android smartphones and mobile devices. Users can access this application by downloading the app through the Apple or Android App stores, or by navigating to energy.ehawaii.gov/ev using their mobile browser.

Award Credits
Contributors:
| | |
| --- | --- |
| Hawaii State Chief Information Officer: | Keone Kali |
| Hawaii State Energy Administrator: | Mark Glick |
| Hawaii State Renewable Energy Branch Chief: | Veronica Rocha |
| Hawaii Transportation Energy Specialist: | Margaret Larson |
| Honolulu Clean Cities Representative: | Justine Espiritu |
| Hawaii Information Consortium General Manager: | Russell Castagnaro |
| Hawaii Information Consortium Project Manager: | DeAnna Niderost |
| | |
| | |
| | |