WINNER!
THE WEB MARKETING ASSOCIATION IS PROUD TO PRESENT THIS 2014 MOBILEWEBAWARD FOR OUTSTANDING ACHIEVEMENT IN MOBILE DEVELOPMENT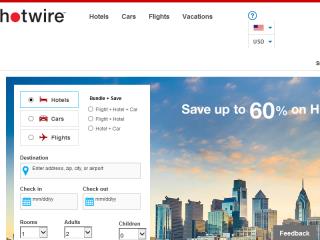 To: Hotwire
For: Hotwire
Award: Outstanding Mobile Website
Click here to see entry creative
About the Entry


Travelers are naturally becoming more mobile-savvy as smartphone usage continues to grow, and they're often using mobile devices to score last-minute savings. Hotwire.com officially unveiled its award-winning mobile site in March 2011 and re-skinned the mobile site in June 2014 to help consumers find travel deals easier and quicker than ever before. The site features an enhanced appearance that is not only scalable and responsive, but includes a rich map graphic as the background of the user interface. Users also have the ability to search for hotel deals through Hotwire's FareFinder feature. The site is known for its streamlined and incredibly fast experience, complete with GPS, customized maps, hi-res images and click-to-call customer support. It features best-in-class technology, along with a sleek and efficient design that's suited perfectly for the last-minute consumers would want to score low prices on-the-go. With just one click from the homepage, travelers can begin a search for car rentals and hotels right up until midnight on the day of arrival. Almost all (83%) of hotel purchases are booked within one day of arrival and majority of (66%) of car rental purchases are booked within one day of pickup.