WINNER!
THE WEB MARKETING ASSOCIATION IS PROUD TO PRESENT THIS 2014 MOBILEWEBAWARD FOR OUTSTANDING ACHIEVEMENT IN MOBILE DEVELOPMENT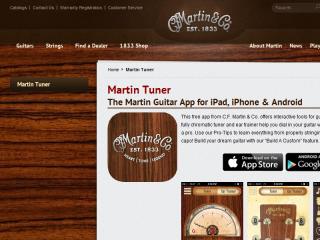 To: Spark
For: Martin Guitar Tuner
Award: Best Music Mobile Application, Best of Show Mobile Application
Click here to see entry creative
About the Entry


Spark approached the guitar manufacturer about developing a product that would better connect the C.F. Martin & Co. brand to its customer base by using mobile technology. Spark worked with Martin to develop the idea for a guitar-tuning app that would reflect the company's style and culture. It's more than just a tuning app. The tuning app is certainly central to the idea, but the purpose is really to allow Martin to expand its presence onto a mobile device. In addition to the guitar tuner, there is a design-your-own custom guitar component of the app, where the user can pick different body styles, wood and decorations and then share the image on social media. While there is a variety of different guitar-tuning apps available, the aim was to make this one a product that reflects the values of a Martin guitar user, who is often a more advanced musician with a more discerning ear. The creative team also took great care to give the app the look and feel of a Martin guitar, making the art look classic, traditional and even a little old fashioned to capture the richness of Martin's more than 180 years of history.
Award Credits
Contributors:
| | |
| --- | --- |
| Creative Director: | Denis Aumiller |
| Account Director: | Joe Iacovella |
| Digital Manager: | Donna Chastain |
| Programmer: | Josh MIller |
| Programmer: | Mark Koberlein |
| | |
| | |
| | |
| | |
| | |