WINNER!
THE WEB MARKETING ASSOCIATION IS PROUD TO PRESENT THIS 2013 MOBILEWEBAWARD FOR OUTSTANDING ACHIEVEMENT IN MOBILE DEVELOPMENT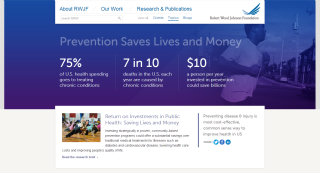 To: Robert Wood Johnson Foundation, Threespot, Velir
For: RWJF.ORG Website
Award: Best Health Care Mobile Website
Click here to see entry creative
About the Entry


The Robert Wood Johnson Foundation focuses on the pressing health and health care issues facing our country. As the nation's largest philanthropy devoted exclusively to health and health care, the Foundation works with a diverse group of organizations and individuals to identify solutions and achieve comprehensive, measurable, and timely change.

For more than 40 years the Foundation has brought experience, commitment, and a rigorous, balanced approach to the problems that affect the health and health care of those it serves. When it comes to helping Americans lead healthier lives and get the care they need, the Foundation expects to make a difference in your lifetime.

The Foundation's web presence gives it a new set of tools to deliver valuable content into the hands of those who can help create the social change it is looking to achieve. The solution has 3 objectives:

1. Integrate community and social media fundamentals into their public presence, which will allow progress towards their mission of social change
2. Facilitate connections among constituents and colleagues so that they all may have the opportunity to share ideas, promote discussions, collaborate on issues and content, and create and disseminate knowledge through RWJF products
3. This integration of community into RWJF's public presence is not just for their external audience, it also includes grantees, and national program offices and staff.

Award Credits
Contributors:
| | |
| --- | --- |
| Robert Wood Johnson Foundation: | http://www.rwjf.org/ |
| Threespot Media: | http://www.threespot.com/ |
| Velir: | www.velir.com |
| | |
| | |
| | |
| | |
| | |
| | |
| | |