WINNER!
THE WEB MARKETING ASSOCIATION IS PROUD TO PRESENT THIS 2013 MOBILEWEBAWARD FOR OUTSTANDING ACHIEVEMENT IN MOBILE DEVELOPMENT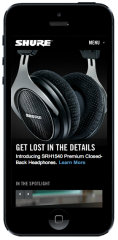 To: Shure Incorporated and Viget Labs
For: Mobile site for Shure.com/Americas
Award: Outstanding Mobile Website
Click here to see entry creative
About the Entry


The mobile version of Shure.com/Americas was created to offer a seamless user browsing experience—allowing customers in the process of evaluating purchase decisions to experience a smooth transition from desktop to mobile views. While the design is rooted in simplicity and ease of use, the mobile site allows its steadily growing viewership to obtain the same level of detail they've come to expect from the desktop version.

From the mobile site, visitors can effortlessly access Shure's expansive portfolio of resources that includes hundreds of product pages, educational materials, news pages and customer support assets, among other information. Each page has a unique URL that's easy to share via email, Twitter or Facebook and is quick to load. Mobile site visitors can also customize the page view to expand or minimize to meet their browsing needs. The mobile view is also ideal from a backend perspective, as it doesn't require contributors to make updates in the Content Management System.

The site's desktop view has also been optimized for use with mobile devices, and automatically reorganizes page content to fit within the screen parameters of the phone or tablet in-use. With 22 percent of site visitors accessing the site from a mobile device, Shure plans to continue improving the already advanced mobile view by updating page response to meet the display requirements of both middle devices and smart phones larger than the iPhone or Android smart phone, paving the way for increased usability across the ever-growing spectrum of mobile devices.

Award Credits
Contributors:
| | |
| --- | --- |
| Web Manager: | Matt Dobschuetz (Shure) |
| Sr. Project Manager: | Jason Sperling (Viget Labs) |
| Project Manager: | Josh Korr (Viget Labs) |
| Development Director: | Patrick Reagan (Viget Labs) |
| Developers: | Ryan Foster, Mike Ackerman and Eli Fatsi (Viget Labs) |
| Front End Development Director: | Doug Avery (Viget Labs) |
| Front End Developer: | Andrea Johnson (Shure) |
| Designer: | Blair Culbreth (Viget Labs) |
| Designer: | Brent Burdick (Shure) |
| Marketing Specialist: | Allison Wolcott (Shure) |