WINNER!
THE WEB MARKETING ASSOCIATION IS PROUD TO PRESENT THIS 2013 MOBILEWEBAWARD FOR OUTSTANDING ACHIEVEMENT IN MOBILE DEVELOPMENT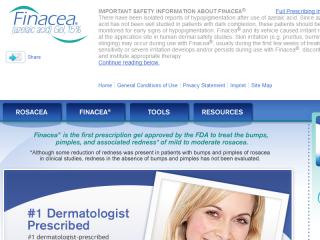 To: Bayer HealthCare
For: finacea.com
Award: Best Pharmaceuticals Mobile Website
Click here to see entry creative
About the Entry


Finacea.com is a Finacea branded site designed to target patients suffering from rosacea; this condition affects both men and women, typically between the age of 30-50. This user-friendly website is designed to support patients through tracking tools, updated news articles relating to living with rosacea, as well as savings on Finacea prescriptions. Finacea.com is supported by the National Rosacea Society, which allows access to the most up-to-date articles from their website, benefiting our users with the most current information on rosacea studies and research. Not only does Finacea.com help those suffering from rosacea manage their condition by learning about causes and triggers, but it also provides patients with information about Finacea, a topical gel used to treat the condition.
The goal of Finacea.com was to create an online space where rosacea patients can learn, understand, and manage the condition, while also learning about the benefits of Finacea.

Award Credits
Contributors:
| | |
| --- | --- |
| Tyler Campbell: | Account Manager |
| Steve Gallant: | Project Manager |
| Lauren Fedinec: | Marketing Communications Manager |
| Christopher Billis: | Brand Manager |
| Keith Flanders: | Brand Manager |
| | |
| | |
| | |
| | |
| | |