WINNER!
THE WEB MARKETING ASSOCIATION IS PROUD TO PRESENT THIS 2013 MOBILEWEBAWARD FOR OUTSTANDING ACHIEVEMENT IN MOBILE DEVELOPMENT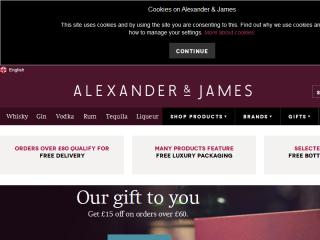 To: Huge and Diageo
For: Diageo's Alexander & James
Award: Best Beverage Mobile Website
Click here to see entry creative
About the Entry


Alexander & James is a luxury online retail experience and Diageo's first major direct-to-customer e-commerce site. The new website, named for legendary spirits masters Alexander Walker and James Buchanan, provides a luxury experience for discerning shoppers online and is dedicated to Diageo's collection of Reserve brands. Alexander & James targets individuals who enjoy the world of spirits but find it intimidating. The site reaches them by offering knowledge, inspiration, and products, with a luxury feel at all touch points. We helped the brand find new ways for its consumers to discover, understand and enjoy premium spirits, while launching the company's first e-commerce brand. As Huge and Diageo worked together to develop the brand proposition, a key insight became clear, as demonstrated by a recent study into the rituals of drinking: the story behind the product is as important as the drink itself. This influenced our adoption of a content-led strategy for the site, to ensure its relevance to the modern consumer. Huge thought a great deal about the audience for this project. The target demographic is digitally savvy, open to new experiences, and puts a high value on social currency. They want to know what the best drinks are, why they are the best and how to drink them. To meet these desires, Alexander & James acts as a digital spirits concierge, offering cocktail recipes, how-to videos, expert tips, gift ideas, and inspiration for entertaining at home.
Award Credits
Contributors:
| | |
| --- | --- |
| VP Global Communications, Diageo: | Venky Balakrishnan |
| GM e-Commerce Europe, Diageo: | Phillipa Dickson |
| Creative Director, Huge: | Andy Thomas |
| Art Director, Huge: | Yuji Sakuma |
| Senior Visual Designer, Huge: | Javier Aguirre |
| Visual Designer, Huge: | Ed King |
| Planning Director, Huge: | Martin Harrison |
| Engagement Director, Huge: | Jo Holdsworth |
| Project Manager, Huge: | Davide Sciola |
| Associate User Experience Director, Huge: | Nick Pleydell-Pearce |