WINNER!
THE WEB MARKETING ASSOCIATION IS PROUD TO PRESENT THIS 2013 MOBILEWEBAWARD FOR OUTSTANDING ACHIEVEMENT IN MOBILE DEVELOPMENT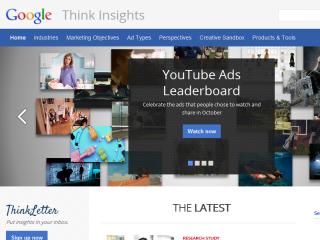 To: Huge and Google
For: Google Think Insights
Award: Best B2B Mobile Website
Click here to see entry creative
About the Entry


Google Think Insights is designed to be the hub for marketing insights and inspiration for advertisers and agencies. Users can learn about the latest research in digital marketing, be inspired by creative brand campaigns and find useful products and tools. They can also find industry-leading case studies as well as Google's latest research, strategic perspectives and interviews with innovators and experts. The goal is to help advertisers and agencies make the most of the Web by helping them stay up-to-date on the latest in digital marketing, arm themselves with data to support their business cases and create inspiring campaigns.

Think Insights represents a consolidation and reorganization of about 25 websites that formally housed more than 2,000 pieces of content for Google's advertising customers. The site was designed and architected to allow users to easily access the content they're looking for, as well as to surface the most relevant and enticing content to more casual visitors.

Award Credits
Contributors:
| | |
| --- | --- |
| B2B Marketing: | Carolina Lasso, Google |
| Editor of Google's Think Quarterly: | Alli Mooney, Google |
| Group Marketing Manager - US Large Advertiser Marketing: | Davang Shah, Google |
| Product Marketing: | Will Trang, Google |
| | Anita Barci Zukow, Google |
| Project Manager: | Kate Behne, Huge |
| Associate Experience Lead: | Amber Cartright, Huge |
| Creative Director: | Allen Orr, Huge |
| Interaction Designer: | Judy Podraza, Huge |
| Art Director: | Jonathan Rahmani, Huge |