WINNER!
THE WEB MARKETING ASSOCIATION IS PROUD TO PRESENT THIS 2013 MOBILEWEBAWARD FOR OUTSTANDING ACHIEVEMENT IN MOBILE DEVELOPMENT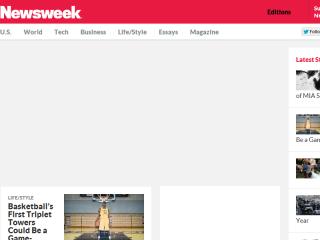 To: Huge and Newsweek
For: The Redesigned Newsweek.com
Award: Best News Mobile Website, Best of Show Mobile Website
Click here to see entry creative
About the Entry


When Newsweek announced it would be eliminating its print edition and transforming into an all-digital publication, the leading magazine engaged Huge to quickly deliver on editor-in-chief Tina Brown's vision, and target Newsweek readers online. Design-wise, Newsweek tasked Huge with developing a digital experience that leveraged the best elements of its digital-savvy sister publication, The Daily Beast, while preserving a distinct look-and-feel that would stay true to the Newsweek brand. Huge's goal was to create an immersive, social, even addictive experience that modernized Newsweek yet maintained its authority and reputation. We incorporated features like "Newsmakers," Newsweek's unique take on The Daily Beast's "Cheat Sheet," while emphasizing Newsweek's focus on deep editorials. The smooth, intuitive left-hand navigation and table of contents sticks with users as they browse, drawing them further into the experience without disorienting them. We showcased quotes displaying various viewpoints and juxtaposed them with social sharing tools to encourage user engagement. To lend the digital version an advantage print could never offer, we made it easy for users to seamlessly jump from issue to issue and view the entire archive. Finally, leveraging the full possibilities of responsive design, Huge created custom layouts for phone and tablet that ensure the integrity of the design holds up no matter how you access the site. Huge built the digital magazine, making sure to develop lighter versions for the responsive design on tablet and smartphone.
Award Credits
Contributors:
| | |
| --- | --- |
| CEO, Newsweek: | Baba Shetty |
| Chief Digital Officer, Newsweek: | Michael Dyer |
| Tina Brown: | Editor-in-Chief, Newsweek |
| Megan Man: | Associate Creative Director, Huge |
| Colleen Redmond: | Senior Designer, Huge |
| Aaron J Shapiro: | Senior Product Designer, Huge |
| | |
| | |
| | |
| | |