WINNER!
THE WEB MARKETING ASSOCIATION IS PROUD TO PRESENT THIS 2013 MOBILEWEBAWARD FOR OUTSTANDING ACHIEVEMENT IN MOBILE DEVELOPMENT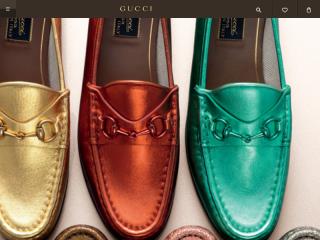 To: Huge and Gucci
For: Gucci Mobile Website
Award: Best Shopping Mobile Website
Click here to see entry creative
About the Entry


One of the world's best-known and most established luxury brands, Gucci engaged Huge for both a short-term and long-term digital solution. From a brand perspective, the iconic Italian label wanted a full redesign of its digital presence but also wanted to seize the mobile sales opportunity immediately. Gucci set a goal of increasing product sales and conversion through a mobile version of its existing site. Huge's task was to bring the luxury, service and ease of the in-store shopping experience to smartphones and tablets. The design and user experience challenge was to maintain a premium feel while also streamlining the purchase path – browsing, checking out and sharing favorite products on social channels all needed to be smooth and intuitive. Huge decided to focus the design primarily on the products, which meant putting the spotlight on large, high-resolution images and letting the full description and price fall below the fold. Knowing that Gucci customers, and luxury shoppers in general, often purchase only one expensive item at a time, we expedited the checkout process and condensed it into just three steps. Just a month after the mobile website launched, Gucci's revenue from mobile multiplied almost fourfold, thanks to a 150% increase in mobile traffic. By January 2013, iPhone traffic represented 16% of total traffic to Gucci.com, and revenue from the iPhone made up 8% of Gucci's total online revenue (up from only 2% the previous year). In addition, iPhone conversion rates increased 74% year-over-year.
Award Credits
Contributors:
| | |
| --- | --- |
| Group Engagement Director, Huge: | Kristin Faucher |
| Engagement Manager, Huge: | Neda Namiranian |
| Partner, Executive Creative Director, Huge: | Joe Stewart |
| Senior Product Strategist, Huge: | Irene Tien |
| Worldwide Digital Director, Gucci: | Barbara Rybka |
| Worldwide User Experience Strategist, Gucci: | Zeina Farha |
| e-business MIS Manager, Gucci: | Laura Manni |
| e-Marketing Manager, Gucci: | Emmanuelle Saal |
| WW MIS eBusiness Web Analyst, Gucci: | Filippo Conforti |
| | |