WINNER!
THE WEB MARKETING ASSOCIATION IS PROUD TO PRESENT THIS 2013 MOBILEWEBAWARD FOR OUTSTANDING ACHIEVEMENT IN MOBILE DEVELOPMENT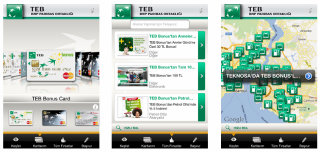 To: TEB
For: TEB Deal Finder
Award: Best Marketing Mobile Application
Click here to see entry creative
About the Entry


TEB Deal Finder is the mobile banking application provided by TEB. As the first location based financial service application supporting campaigns and Bonus card related offers are the leading value propositions of the application.
Customers can display these deals as list, segment within various aspects such as sector or mall, find the closest among them and display on map in iOS and Android platforms. In order to use these functions all customers have to do is to add own credit type to the list of credit cards of the customer. After displaying the specific offer, TEB Deal Finder utilizes the current locations of the customer to determine the shortest path. After determining the shortest path, TEB Deal Finder guides customer to the location of the deal of in interest. If customer does not own a Bonus-card, Deal Finder also has a sector on complete card application.
TEB Deal Finder had been downloaded 15k times so far. We are aware of that customers are satisfied with application so our priority is to make TEB Deal Finder prevail. In order to make this expectation come true, we started working on transformation of Deal Finder into a digital wallet. So Deal Finder will recognize the customers better, provide tailored offers, suggest digital coupons, enable cardless payment and notify customers within their interest zone.

Award Credits
Contributors:
| | |
| --- | --- |
| Deniz Devrim Cengiz: | ADC Director |
| Nazim Erdogan: | ADC Senior Manager |
| Halil Ozcan: | ADC Manager |
| Batuhan Ulutuncel: | ADC Business Developer |
| | |
| | |
| | |
| | |
| | |
| | |