WINNER!
THE WEB MARKETING ASSOCIATION IS PROUD TO PRESENT THIS 2013 MOBILEWEBAWARD FOR OUTSTANDING ACHIEVEMENT IN MOBILE DEVELOPMENT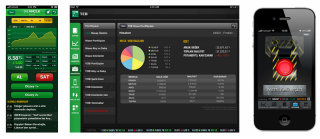 To: TEB
For: TEB Practical Trader
Award: Best Investment Mobile Application
Click here to see entry creative
About the Entry


TEB Practical Trader is the investment management tool to make transactions on Stock Exchange Market. Instantly updated values, actions and results provide opportunity of tracking the changes. TEB Pratical Trader developed to perfect customers' investment management process in iOS and Android Platforms. Non-customer users can track the change in SEM however TEB Practical Trader's experience nurtures after logging in. Real time information is bundled with instant notifiers of lot exchanges and stock market news.
TEB Practical Trader offers a unique quality of smooth investment experience. TEB Practical Trader has graphical UI supported with P&L statement of portfolio where detailed by revenue/cost/profit table and lots of secondary functions such as: stock market news' video, news, personal porfolio etc. Moreover there are specific functions distinguishes Practical Trader from the competitors, one of them is the emergency button which releases all lots with the momential values in the personal portfolio. For advanced users, this function is a game changer; option to empty portfolio with one button. This function is designed for critical moments of fast changes.
Practical Trader has been downloaded around 45000 times so far. Until the end of 2013 we forecast 2.5 billion TL transactions to be done. 21% of the ADC SME transaction have been complited with Practical Trader this year. Big players taking advantage of desktop applications also linked TEB Practical Trader and started to use this application. With the effect of TEB Practical Trader mobile investment transaction volume almost doubled every quarter.
Award Credits
Contributors:
| | |
| --- | --- |
| Deniz Devrim Cengiz: | ADC Director |
| Nazim Erdogan: | ADC Senior Manager |
| Halil Ozcan: | ADC Manager |
| Batuhan Ulutuncel: | ADC Business Developer |
| | |
| | |
| | |
| | |
| | |
| | |