WINNER!
THE WEB MARKETING ASSOCIATION IS PROUD TO PRESENT THIS 2013 MOBILEWEBAWARD FOR OUTSTANDING ACHIEVEMENT IN MOBILE DEVELOPMENT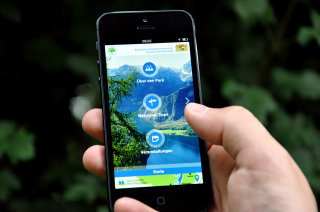 To: Bavarian State Ministry of the Environment and Consumer Protection
For: Berchtesgaden National Park App
Award: Best Transportation Mobile Application
Click here to see entry creative
About the Entry


The Berchtesgaden National Park attracts 1.3 million visitors annually. Since summer 2013, the "Berchtesgaden National Park" app has been available to guide them – loaded with information and interactive features.

Whether for hikers, mountain bikers or skiers – the sleek, fresh design of the map-based app provides an excellent guide for exploring around 260 km of trails and footpaths at the foot of the Alps. It features 24 tours, complete with detailed information on duration, distance and seasonal time frame for each trail, plus current trail conditions. The app also gives valuable hints about equipment required and offers visualized elevation profiles.It also presents an overview of current events and interesting facts about the park. Photos and videos from the park add to the picture and give a comprehensive impression, even while planning the hike at home before entering the park itself. The app integrates highly accurate official administrative geo-spatial data. Different trails are displayed in separate layers on the map. Additional information, such as points of interest, is included via symbols on the map. Details about a mountain hut, for example, are thus easily accessible through a simple click on the map. As mobile Internet coverage is very limited in the park, the app is fully functional offline. And of course all the information is always up to date, so one can officially claim: with this app, there's no need for a map!

Award Credits
Contributors:
| | |
| --- | --- |
| Director Applications & Platforms, ]init[ AG: | Markus Aeugle |
| Managing Software Developer, ]init[ AG: | Stefan von Hunolstein |
| | |
| | |
| | |
| | |
| | |
| | |
| | |
| | |