WINNER!
THE WEB MARKETING ASSOCIATION IS PROUD TO PRESENT THIS 2013 MOBILEWEBAWARD FOR OUTSTANDING ACHIEVEMENT IN MOBILE DEVELOPMENT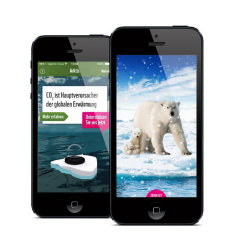 To: Aperto Group / Aperto Move
For: WWF - The Snow Globe Charity App
Award: Best Environmental Mobile Application, Best Toy & Hobby Mobile Application
Click here to see entry creative
About the Entry


WWF snow globe is a charity app for smartphones, which was launched in Germany be-fore Xmas 2012. Idyllic images with cutting-edge 3D parallax effects call upon the target group's emotions. A sudden change of perspective in the application takes the users by surprise and allows for reflection on part of the respective user. Now, supporting is only on click away. By cutting off media disruption, smartphone users can directly support the WWF, making the application a ground-breaking solution for mobile donation, especially for those who are on-the-go!
The application features a snow globe showcasing different landscape scenarios and their resident animals. Once the snow globe is shaken, snow starts falling in the arctic or ani-mated butterflies are flying around within the rain forest scenario. Wind and jungle sounds, as well as landscapes designed to a T, further the user's magical experience in the depicted regions.
Once the user zooms out of this paradisiacal scenario, the devastating threat to the envi-ronment becomes apparent: Background information outlines the effects of climate change and the inevitable vanishing of the Arctic's eternal ice. Confronted with reality, the user can directly help: with one-click, the WWF's efforts can be supported via a ten euro charge to one's cell phone bill or prepaid credit. After a tap on the 'support' button, the user is being forwarded to another site, which identifies his phone number (via mobile communications connection). One single tap on the "Pay now" button is sufficient and the user has donated the money.

Award Credits
Contributors:
| | |
| --- | --- |
| Design: | Sarah Schulz |
| Concept: | Laura Müller |
| Development: | Sebastian Maschinski |
| Project management: | Kristina Walcker-Mayer |
| Project lead: | Jan Gessenhardt |
| | |
| | |
| | |
| | |
| | |