WINNER!
THE WEB MARKETING ASSOCIATION IS PROUD TO PRESENT THIS 2013 MOBILEWEBAWARD FOR OUTSTANDING ACHIEVEMENT IN MOBILE DEVELOPMENT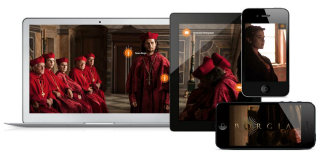 To: Aperto Group / Aperto Move
For: ZDF German Television BORGIA II Website
Award: Best TV Mobile Website
Click here to see entry creative
About the Entry


Borgia is a French-German-Czech historical drama television series created by Tom Fontana. The show recounts the Borgia family's rise to power and subsequent domination of the Papal States during the Renaissance. The TV series comes along with a supporting responsive web-site which is optimized for both desktop and mobile (tablet & smartphone). The website features the complete seasons 1 & 2 as well as interesting facts about actors, characters and history. The series-related website is built on a one navigation level as all content is placed on a parallax stage via hotspots. Hotspots open a lightbox which provides specific content such as image galleries, videos, historical maps or a family tree. In order to reach a combination of both renaissance and new media, the design of the site features dark scenes in the background to reflect the renaissance era, and light modern hotspots on the first parallax level. Each section of the stage tells a different story through enchanting images that catch the users' curiosity and drag them into the world of Borgia. By providing the site also for mobile devices, the users are able to put the TV series in their pocket. As videos can now be watched on-the-go, the experi-ence of the Borgia is no longer limited to the television screen. The Borgia website provides a package full of information and entertainment, which gives the users the chance to experience true renaissance power play.
Award Credits
Contributors:
| | |
| --- | --- |
| Design: | Sarah Schulz |
| Creative Director: | Nadim Habib |
| Development: | Sebastian Maschinski |
| Project management: | Kristina Walcker-Mayer |
| Project lead: | Marie-Louise Sadakane / Jan Gessenhardt |
| Editorial: | Milena Bonse / Diana Kraus (ZDF) |
| Visual support: | Carsten Immel (ZDF) |
| Technical support: | Rolf Zimmermann (ZDF) |
| Production: | Florian Gerhartz, Marion Marth (ZDF) |
| Photographer: | Michael Driscoll (ZDF) |