WINNER!
THE WEB MARKETING ASSOCIATION IS PROUD TO PRESENT THIS 2013 MOBILEWEBAWARD FOR OUTSTANDING ACHIEVEMENT IN MOBILE DEVELOPMENT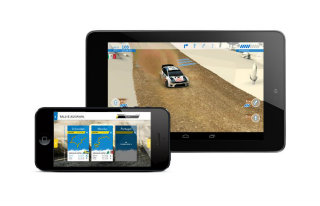 To: Aperto Group / Aperto Move
For: Volkswagen RALLY THE WORLD.THE GAME.
Award: Best Game Site Mobile Application
Click here to see entry creative
About the Entry


Rally the World is a racing-game, which combines real-life rally-features with playful approach-es that bring Volkswagen's brand experience to life. The game was developed as part of a transmedia storytelling campaign for Volkswagen, which incorporated several channels & devices in order to invite people all over the world to experience a new chapter of Volkswagen's motorsport history. The overall campaign was created and led by Greenkern Berlin, part of Aperto Group.
Like the real live events of the World Rally Championship (WRC), all 13 rally tracks can be ex-perienced in the game. The player can see his rally-car (Polo R WRC) from a slanted follower's perspective. The rally-car drives on a 3D-racetrack without being controlled directly by the player. The player chooses from a range of commands in order to conduct the rally-car as fast as possible. With every driven route social fuel points will be added to a fuel gauge on the web-site. If a user shares content from the website on social media, more points are fueled to the gauge as well. Once a certain amount is reached, the whole rally community will be rewarded with special codes and additional game cards. With over 1 million downloads within the first month we follow up on Volkswagen's success. The app for the iPad is among the top 10 in 46 countries in the games section of the iTunes app store, the iPhone the top 10 in the racing section in 66 countries, and all that without any media budget. The Game is available for tablets & smartphones, iOS and Android.

Award Credits
Contributors:
| | |
| --- | --- |
| Idea and concept: | Aperto Group / Aperto Move |
| Game development: | Brightside Games |
| Project management: | Jonas Miebach |
| Project lead: | Marie-Louise Sadakane / Jan Gessenhardt |
| | |
| | |
| | |
| | |
| | |
| | |