WINNER!
THE WEB MARKETING ASSOCIATION IS PROUD TO PRESENT THIS 2013 MOBILEWEBAWARD FOR OUTSTANDING ACHIEVEMENT IN MOBILE DEVELOPMENT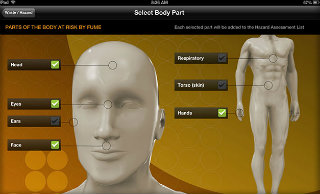 To: Bluetube
For: Kimberly Clark Hazard Assessment App
Award: Best Biotechnology Mobile Application
Click here to see entry creative
About the Entry


Mission:
The Kimberly Clark Hazard Assessment App goal was to simplify the sales process, elevate the customer engagement, automate the process of performing hazard assessments, empower the sales representatives with up to date product information, provide an immediate solution to the customers challenge, and integrate with Kimberly Clark's enterprise business systems. Finally, the app had to be fully functional "offline" when at the customer site and synchronizes back to SalesForce.com when the sales representative was back online.

The iPad application's business purpose is to enable the sales force to conduct hazard assessments at customer sites that result in a solutions document for a safety manager including the identification of Hazards, chemical exposure, and the process to determine the appropriate personal protection equipment and the appropriate products to manage the exposure. The experience of selecting the body part and visual confirmation of potential dangerous exposure to waste and debris make the traditional dry experience of selling protective gear a fun and interactive one instead. The app also includes the ability to export PDF files of orders, as well email the files to anyone all from within the app itself.
Award Credits
Contributors:
| | |
| --- | --- |
| CEO of Bluetube: | Grant Davies |
| COO of Bluetube: | Paul Pezzano |
| Creative Director/Owner Gnoggin: | Chris Tilley |
| Architect: | Nate Rickard |
| Mobile Lead: | Colby Williams |
| Kimberly Clark Senior Capability Development Manager: | Kim MacDougall |
| | |
| | |
| | |
| | |