WINNER!
THE WEB MARKETING ASSOCIATION IS PROUD TO PRESENT THIS 2013 MOBILEWEBAWARD FOR OUTSTANDING ACHIEVEMENT IN MOBILE DEVELOPMENT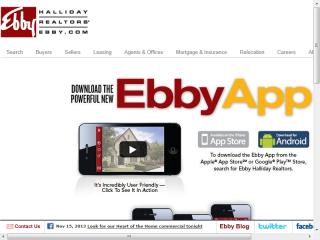 To: Ebby Halliday Realtors
For: Ebby Halliday Realtors App
Award: Best Real Estate Mobile Application
Click here to see entry creative
About the Entry


With the Ebby mobile app you'll enjoy searching for homes more than ever. This state-of-the-art app provides information in a natural way – starting with a map, not a menu. It's perfect for buyers on the go. Available for free to iPhone and Android users, the Ebby app provides the latest in augmented reality and allows users to easily search for homes while on the go using three innovative options: • Journey Search – This feature shows available properties as users travel through a neighborhood. As with each of the Ebby app's interactive search functions, users may choose to delve deeper into properties of interest by immediately viewing property details and interior photos. • Perimeter Search – This feature allows users to draw boundaries on the map view with a finger, enabling viewing of available homes within the perimeter -- and the selected parameters -- of their search. • Scope Search – Aim the phone's camera down a street and this innovative augmented-reality search displays available properties. Select any of the properties for details and photos. Some of the additional functionality available to Ebby app users on the go includes the ability to immediately find open houses and newly listed properties. The Ebby app also makes it easy to perform detailed searches and to share properties of interest with friends. To download the Ebby app, visit the App Store or Google Play Market and search for Ebby Halliday Realtors.