WINNER!
THE WEB MARKETING ASSOCIATION IS PROUD TO PRESENT THIS 2013 MOBILEWEBAWARD FOR OUTSTANDING ACHIEVEMENT IN MOBILE DEVELOPMENT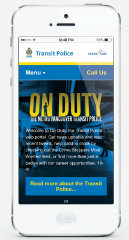 To: Please recognize the followng company: TransLink
For: Transit Police On Duty Portal
Award: Best Portal Mobile Website
Click here to see entry creative
About the Entry


Citizens across Metro Vancouver benefit from Transit Police services, and we want to make sure everyone is aware of the work they perform on a daily basis to keep everyone in the region safe.

Transit Police serve 21 municipalities and have full policing powers – something most citizens are unaware of. Our goal was to create better public awareness of their duties, their work on the transit system and the important role they play in all the municipalities they serve.

We also wanted to change public perception. For many, Transit Police are just fare-checkers, but they preserve the peace and serve the safety and security needs of transit passengers, transit employees and the general public. Their interactive "portal" focuses on the key aspects and elements of the Transit Police.

Recruitment was also a factor in our design, with an increasing need for young, new recruits. We needed to make the site fresh and edgy and show them the opportunities and benefits of joining. We designed the site using RWD (responsive web design) to allow the portal to be accessible, and appealing, on any device (desktop/laptop/mobile).

Their new website provides them with many new opportunities to engage the public, develop relationships and drive safety and awareness messages. It's allowed them to raise public awareness about their role, duties and responsibilities, deliver news items to more customers, connect with passengers via social media and promote the benefits of becoming an officer.


Award Credits
Contributors:
| | |
| --- | --- |
| Manager, Enterprise Marketing: | Angela Otto |
| Digital Marketing Specialist: | Samantha Deane |
| Electronic Media Coordinator: | Matthew Stewart |
| Manager, Strategic Services, Transit Police: | Lance Talbott |
| | |
| | |
| | |
| | |
| | |
| | |