WINNER!
THE WEB MARKETING ASSOCIATION IS PROUD TO PRESENT THIS 2013 MOBILEWEBAWARD FOR OUTSTANDING ACHIEVEMENT IN MOBILE DEVELOPMENT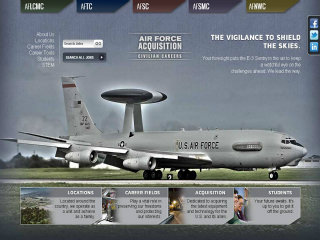 To: Air Force Acquisition Civilian Careers
For: Air Force Acquisition Civilian Careers
Award: Best Employment Mobile Website
Click here to see entry creative
About the Entry


Objective:
In 2008, Congress authorized the Secretary of the Air Force Acquisition/Career Management to take necessary promotional steps to recruit the best civilian technical and business professionals. Because many of these potential employees were unaware that the Air Force had civilian jobs, the first step was to develop an employer brand. To brand this mission on a higher level, the next step was to create The Air Force Acquisition Civilian Career site, a "corporate" portal intended to function as a central hub, tying together the recruitment efforts of civilian acquisition personnel across the centers entrusted with the different phases of the acquisition process: the Air Force Life Cycle Management Center, the Air Force Test Center, the Air Force Sustainment Center, the Space & Missile Systems Center, and the Air Force Nuclear Weapons Center. This centralized hub offers information and tools relating to careers in an array of business and technical fields as well as functioning as a launching point for each individual site. It carries the value proposition of why job seekers should have the Air Force in their consideration set of employment options. The nationwide site must be able to stand up in a career marketplace, where typical private sector career sites sit atop well-publicized corporate and product brands.

Audience:
The target audience consists of civilian job seekers who are potentially interested in working for the US Air Force in a wide array of business and technical fields and range from students/entry-level to highly experienced professionals.

Award Credits
Contributors:
| | |
| --- | --- |
| Vice President of Client Strategy : | Owen Burns |
| Account Director: | Sarah Tageson |
| Digital Project Manager: | Maja Arsova |
| Copywriter: | Steve Taylor |
| Regional Creative Director: | Ted Kirschner |
| Digital Art Director: | Peter Gargiulo |
| Interaction Designer: | James Maliszewski |
| Director of Technology: | Dan Green |
| Website Developer: | Mark Erich |
| Sr. Vice President: | Lindsay Wozniak |