WINNER!
THE WEB MARKETING ASSOCIATION IS PROUD TO PRESENT THIS 2013 MOBILEWEBAWARD FOR OUTSTANDING ACHIEVEMENT IN MOBILE DEVELOPMENT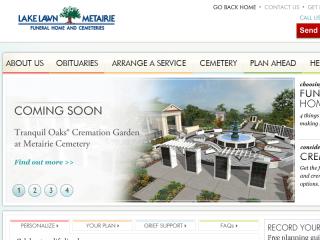 To: Stewart Enterprises & Tributes
For: Lakelawn Metairie
Award: Best Other Mobile Website
Click here to see entry creative
About the Entry


Stewart Enterprises has seen a huge increase in the number of consumers visiting its websites using mobile devices. Of the 317,730 people who visited the Company's websites between February and March, nearly 23 percent did so on a mobile device. Of that amount, 66 percent visited via a mobile device for the first time. Unfortunately, statistics showed that 48 percent of those mobile device users left the site shortly after arriving. That's why the Company's Interactive Marketing team, in partnership with Tributes.com, reworked its websites to be more compatible with mobile devices. The newly retooled sites were designed to give users quick access to pertinent information and focused on three ways users visit the sites: • The user just heard by word of mouth at an event that someone just passed away, prompting him to pull out his phone to find out more information using a search engine. • The user is on his way to a service and is using his phone to find directions to the funeral home, service times or to send last-minute flower arrangements. • The user is in a hospital waiting room or other public place and has been told that the services of a funeral director will be required. He then uses his phone to search for the nearest funeral home. That information helped the marketing team design the mobile sites to make it easier for people to share obituaries on social media and increase condolences by streamlining access to the flower-ordering site.
Award Credits
Contributors:
| | |
| --- | --- |
| Interactive Marketing Manager: | Ann Tran |
| Interactive Marketing Specialist: | Amanda LaBella |
| Graphic Designer: | Angie Palmer |
| Vice President, Engineering (Tributes.com): | Tom Green |
| | |
| | |
| | |
| | |
| | |
| | |