WINNER!
THE WEB MARKETING ASSOCIATION IS PROUD TO PRESENT THIS 2012 MOBILEWEBAWARD FOR OUTSTANDING ACHIEVEMENT IN MOBILE DEVELOPMENT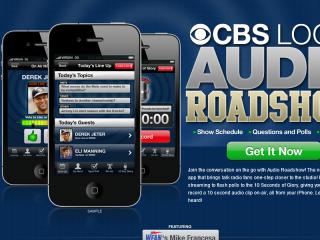 To: CBS Local Digital Media
For: CBS Local Digital Media's Audio Roadshow
Award: Best Broadcasting Mobile Application
Click here to see entry creative
About the Entry


CBS Local Digital Media just debuted a brand new first of its kind digital app accompaniment for WFAN's Mike Francesa's "Mike's On" radio show, called Audio Roadshow (www.audioroadshow.com). The free mobile app brings talk radio fans one-step closer to their favorite station and host. The Audio Roadshow app offers two-way, real time interaction with fans of the station and helps gauge interest in topics being discussed, among other features. Six unique elements of the Audio Roadshow app are as follows: Listen Live- you can listen Live to the show through the app – anywhere, anytime Line up – Check out the topics that will be discussed on the show and the list of scheduled guests Up Next – The next guest that will be on the show is highlighted Spot Poll – Poll based on the topics of the day – Mike can announce it and then get/give instant feedback to the audience On Air – When a guest is on air his picture will be displayed and you can vote (with the thumbs) on if you like what they are saying or not – vote as many times as you'd like 10 Seconds of Glory – Answer a question from Mike straight on your phone and then send it to the producer of the show for a chance for your comment to be played on air To download the Audio Roadshow app instantly on your iPhone, go to the App store on your iPhone and search Audio Roadshow.
| | |
| --- | --- |
| | Ezra Kucharz |
| | Adam Wiener |
| | James DeLorenzo |
| | Allan Bressler |
| | Serafin Vazquez |
| | Adam Bloom |
| | Chris Oliviero |
| | Andy Dirnberger |
| | |
| | |