WINNER!
THE WEB MARKETING ASSOCIATION IS PROUD TO PRESENT THIS 2012 MOBILEWEBAWARD FOR OUTSTANDING ACHIEVEMENT IN MOBILE DEVELOPMENT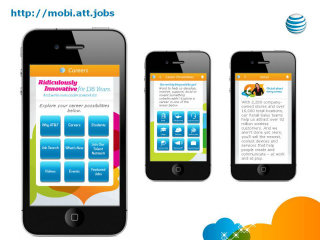 To: AT&T Talent Attraction
For: AT&T Mobile Careers Site
Award: Best Employment Mobile Website
Click here to see entry creative
About the Entry


A recent Comscore study found that 77% of job seekers use mobile in their job search (http://mashable.com/2011/11/27/mobile-jobs-infographic/). As a leader in mobile broadband and emerging 4G capabilities and the best wireless coverage worldwide of any U.S. carrier, AT&T understands the benefit and importance of mobile communication. It's with this focus and statistics to support it, that AT&T recently redesigned its mobile careers portal for job seekers.
Although AT&T has had a mobile optimized site since 2009, the goal of the completely redesigned site is to provide job seekers all of the necessary tools and information they would usually have at their fingertips on a desktop, but in a mobile friendly format. This includes access to Day in the Life videos, information on all of AT&T's different job categories, the ability to browse upcoming career events and join the AT&T Talent Network (a relationship marketing program that informs members of new opportunities, events, job search tips and offers a monthly prize giveaway) and even search for current job openings. The mobile site even creates a more personal experience for the job seeker than a desktop version, as the job search function allows the user to search for jobs based on their GPS coordinates.
The secondary goal was to design the site to maximize the job seeker audience. Rather than creating an OS specific application, AT&T chose to create their new career site on a flexible mobile platform designed to detect a user's device and render the site appropriately to maximize usability.
Award Credits
Contributors:
| | |
| --- | --- |
| Staffing Director, Talent Attraction & Operations: | Jennifer Terry |
| Associate Director of Staffing - Talent Attraction : | Carrie Corbin |
| Creative Director: | Craig Knutson |
| Digital Project Manager: | Julie Gordon |
| Executive Producer: | Kati Doebler |
| Executive Producer: | Dawn Rokosh |
| Digital Strategist: | Chris Citero |
| VP, Client Engagement: | Dustin Naughton |
| | |
| | |