WINNER!
THE WEB MARKETING ASSOCIATION IS PROUD TO PRESENT THIS 2012 MOBILEWEBAWARD FOR OUTSTANDING ACHIEVEMENT IN MOBILE DEVELOPMENT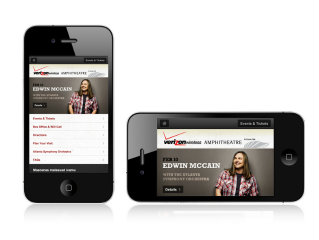 To: Red Clay Interactive
For: Verizon Wireless Amphitheatre Mobile
Award: Best Events Mobile Website
Click here to see entry creative
About the Entry


As one of the world's largest Amphitheatres by ticket sales, Verizon Wireless Amphitheatre at Encore Park attendees need simple access to concert and event information from their mobile device.

In late 2010, noticeable increases in mobile traffic were found in analytical research by Red Clay Interactive. Research also showed that mobile users had specific interests: box office hours, events & tickets listings, directions, and how to plan their upcoming visit. In early 2011, Red Clay Interactive was selected to create and launch the Verizon Wireless Amphitheatre at Encore Park mobile site, which would provide users with the answers to the questions they most often sought.

In addition to specific navigation, the footer of the mobile site provides users with simple access to how to find the venue via their mobile devices map functionality, as well as direct access to call or email the venue. Access across both mobile and desktop versions of the site is available for users who may need to visit both options.

For administration, this site is developed on the WordPress framework and site administrators are given access to control mobile and standard website content separately, which allows Verizon Wireless Amphitheatre staff the ability to develop appropriate content per the user's device.

Award Credits
Contributors:
| | |
| --- | --- |
| Interactive Marketing Director / Strategy: | Nick Kastner |
| Development Director: | Zach Abernathy |
| Creative Director: | Aaron Stump |
| Promotions Manager / ASO Presents Verizon Wireless Amphitheatre at Encore Park: | Keri Musgraves |
| | |
| | |
| | |
| | |
| | |
| | |