WINNER!
THE WEB MARKETING ASSOCIATION IS PROUD TO PRESENT THIS 2012 MOBILEWEBAWARD FOR OUTSTANDING ACHIEVEMENT IN MOBILE DEVELOPMENT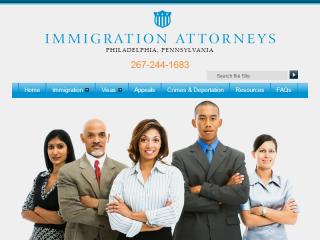 To: LexisNexis Law Firm Marketing Solutions
For: Philadelphia Immigration Attorneys Mobile Multi-Platform Site
Award: Best Legal Mobile Website
Click here to see entry creative
About the Entry


LexisNexis has created a series of websites successfully optimized for mobile and web search. This site (http://optimized-philly-immigration.cert-lawlinks.com/) is one of those top performers, optimized to attract quality prospects in a specific for area of practice (immigration law) and geography (Philadelphia). Launched in mid-2011 and now enjoying the fruits of more than six months of quality organic SEO growth, this site now achieves high rankings in mobile and web searches, and converts an optimal number of that site traffic into inquiries. These sites were built leveraging ground-breaking "Responsive Design," a leap forward in mobile web technology. Whether a legal consumer is browsing with a smart phone, tablet or PC with a full-size 27″ Cinema Display, the content scheme adapts for an optimal user experience. In fact, the visual display will actually auto-adjust to adapt to the device or user manipulation. See for yourself by re-sizing the browser window on your PC to mimic the size and shape of any device and the site will morph before your eyes. With Gartner predicting that by 2013, mobile phones will overtake PCs as the most common web access device worldwide, this approach provides the growing number of mobile users with an easy and simple way of viewing law firm web sites. This site is now fully optimized for multiple mobile device user experiences, built to perform based on a specific area of law and geography.