WINNER!
THE WEB MARKETING ASSOCIATION IS PROUD TO PRESENT THIS 2020 MOBILEWEBAWARD FOR OUTSTANDING ACHIEVEMENT IN MOBILE DEVELOPMENT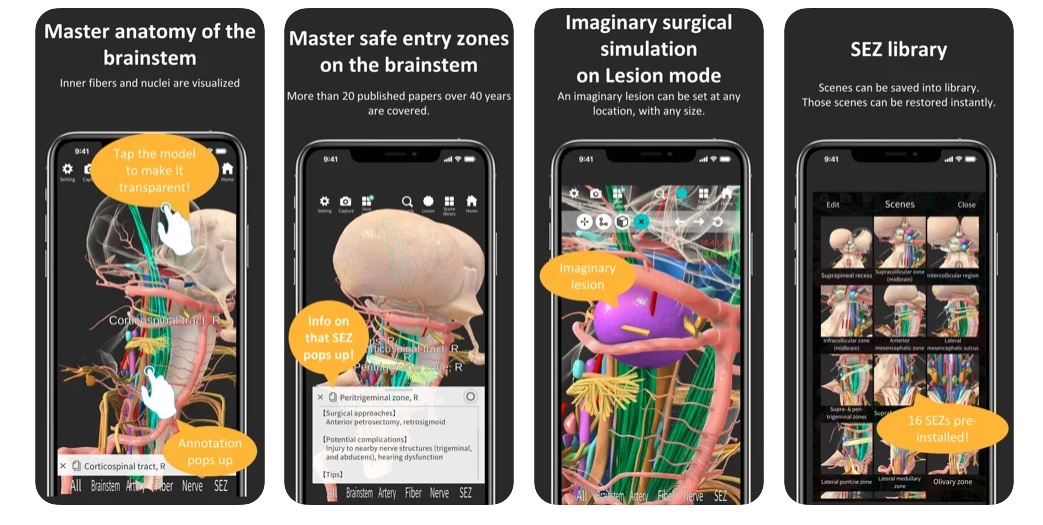 To: Satoshi Kiyofuji, Taichi Kin, Yukinari Kakizawa, Yasuyuki Takei, Takehito Doke, Department of Neurosurgery The University of Tokyo
For: Brainstem 3D atlas
Award: Best Education Mobile Application, Best of Show Mobile Application
Click here to see entry creative
About the Entry


Studying the brain is undoubtedly important for medical students or residents. The main problem in this is, it is very complex, and boring. Why is this? Because we can not see the brain lively from the textbooks.

Brainstem and SEZ anatomy is a mobile App that changes this like a moon shot.

Until this App was introduced, medical students or residents had to go through tens of 2D sections of the brainstem on the textbooks to learn anatomy of the brainstem. But, not any more! With this App, learners can see inside of the brainstem by simply tapping the brainstem. Intuitive usability such as simple dragging or pinching the screen enhances learning experience efficient. It is now much easier to grasp 3D relationships of the complex anatomy.

For professional use (e.g. neurosurgeons), detailed information on safe entry zones to the brainstem (safe area to approach the brainstem) was collected from more than 20 published papers over 40 years, when surgery to the brainstem was first scientifically reported.

Another unique feature is a lesion mode. Users can put an imaginary lesion (tumor) as a sphere or ellipsoid, and simulate the best surgical approach to the lesion. This is the world's first App that can be used in presurgical simulation.