WINNER!
THE WEB MARKETING ASSOCIATION IS PROUD TO PRESENT THIS 2020 MOBILEWEBAWARD FOR OUTSTANDING ACHIEVEMENT IN MOBILE DEVELOPMENT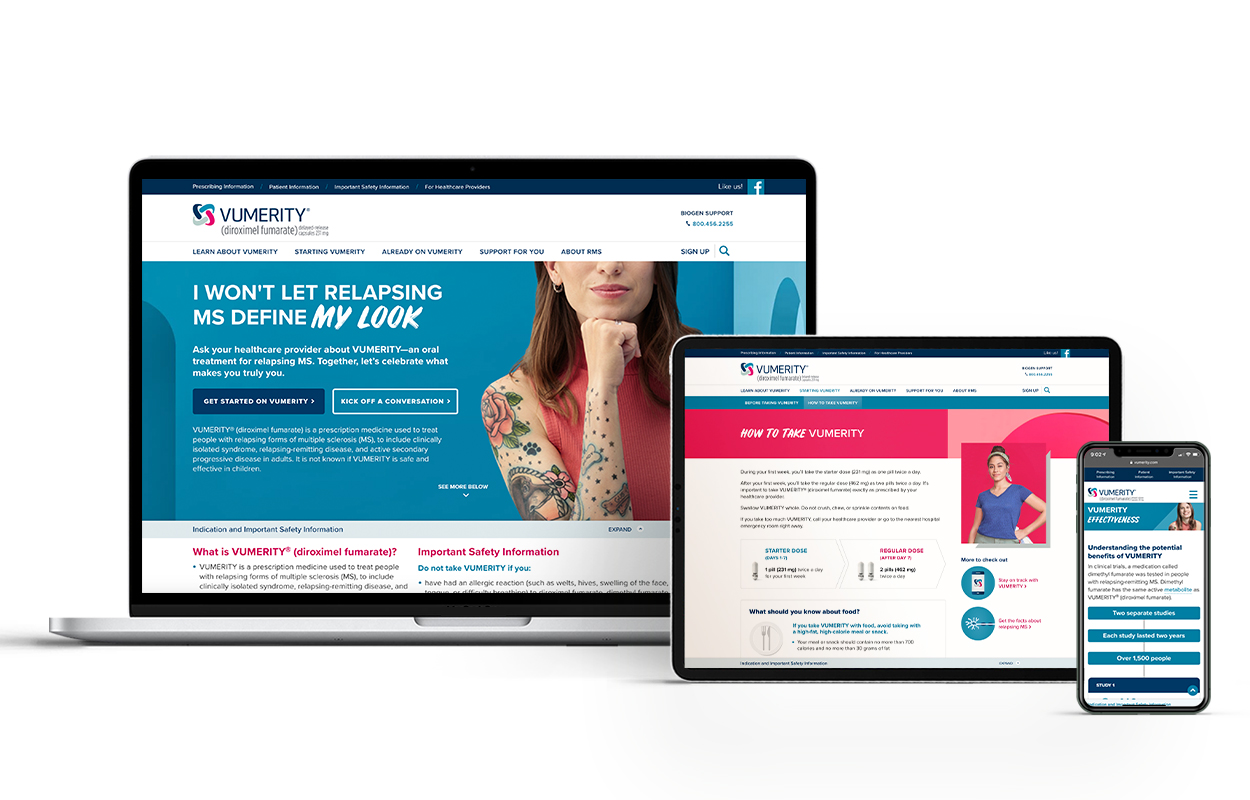 To: Patients & Purpose
For: VUMERITY
Award: Best Pharmaceuticals Mobile Website
Click here to see entry creative
About the Entry


The goal of VUMERITY's first consumer campaign was simple: educate relapsing MS patients about VUMERITY as a treatment option and empower them to ask their doctor about it.

But within a crowded and competitive space, this called for innovative thinking and thoughtful design.

To connect with our audience(25-35 years old and dissatisfied with their current treatment),we considered three crucial elements: a striking aesthetic, empowering messaging, and an engaging user experience.

Every design aspect was considered, from the cool-yet-inviting color palette to the four "personas" featured in our campaign photography—even the font choice. It was important for us to stand out, visually and tonally. Our mantra, "I am so much more than my relapsing MS," had to come alive on each page.

The visuals evoke a feeling of individuality, represented by our 4 heroes and their unique sets, complemented by bold headlines brought to life with a stylized brushstroke font. These messages reinforce the brand's empowering tone while establishing VUMERITY as a lifestyle choice rather than just another treatment option.

To round out our creative approach, we carefully considered the way information is presented. Subtle movement throughout the site captures viewers without overpowering the layout of each page, and strategically designed hover states ensure complex medical terms are distilled into easy-to-understand bits of information.

Through design, messaging, and a unique user experience, we established VUMERITY's exciting, bold presence within the relapsing MS space.
Award Credits
Contributors:
| | |
| --- | --- |
| VP, Associate Creative Director, Copy: | Caroline Fish |
| VP, Associate Creative Director, Art: | Matt Nuzzi |
| VP, Group Account Director: | Jeannine Ross |
| VP, Art Supervisor: | Danielle St. Pierre |
| VP, Copy Supervisor: | Lauren Stone |
| Account Supervisor: | Jackie Howe |
| Project Manager: | Pascal Seman |
| | |
| | |
| | |