WINNER!
THE WEB MARKETING ASSOCIATION IS PROUD TO PRESENT THIS 2019 MOBILEWEBAWARD FOR OUTSTANDING ACHIEVEMENT IN MOBILE DEVELOPMENT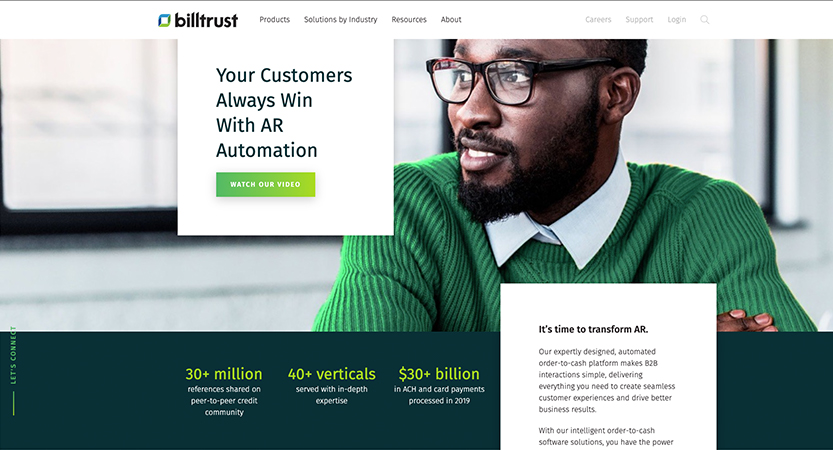 To: Billtrust
For: Billtrust Website
Award: Best Financial Services Mobile Website
Click here to see entry creative
About the Entry


Billtrust's website was redesigned with the goal of solidifying its brand leadership position in the rapidly maturing Accounts Receivables industry. It clearly displays Billtrust's various products, explains its services and provides helpful resources, including white papers, case studies, blogs and testimonials, for current and prospective clients. The website release includes a key number of improvements, including mobile optimization for a better experience, an overhaul of measurement and metrics to enable data-driven decision making with a focus on engaging customers and prospects longer, simplified product families to make it easier for customers to navigate the website, compelling new content and resources, and increased security from consolidating and retiring old standalone websites. Billtrust updated its website with customer needs and wants top-of-mind. With that, Billtrust is differentiating its brand experience by driving consistency around how it looks, sounds and behaves to better the customer experience.
Award Credits
Contributors:
| | |
| --- | --- |
| CEO & Founder: | Flint Lane |
| President: | Steve Pinado |
| SVP, Marketing: | Marcel Korst |
| VP, Product Marketing: | Neeharika Nagisetty |
| Director of Digital Design and Creative Services: | Kurt Konow |
| Director of Marketing Communications: | Meredith Simpson |
| Digital Designer: | Mariah Gardziola |
| Web Technologist: | Micah Pierce |
| Digital Content Writer: | Eric Gale |
| | |