WINNER!
THE WEB MARKETING ASSOCIATION IS PROUD TO PRESENT THIS 2019 MOBILEWEBAWARD FOR OUTSTANDING ACHIEVEMENT IN MOBILE DEVELOPMENT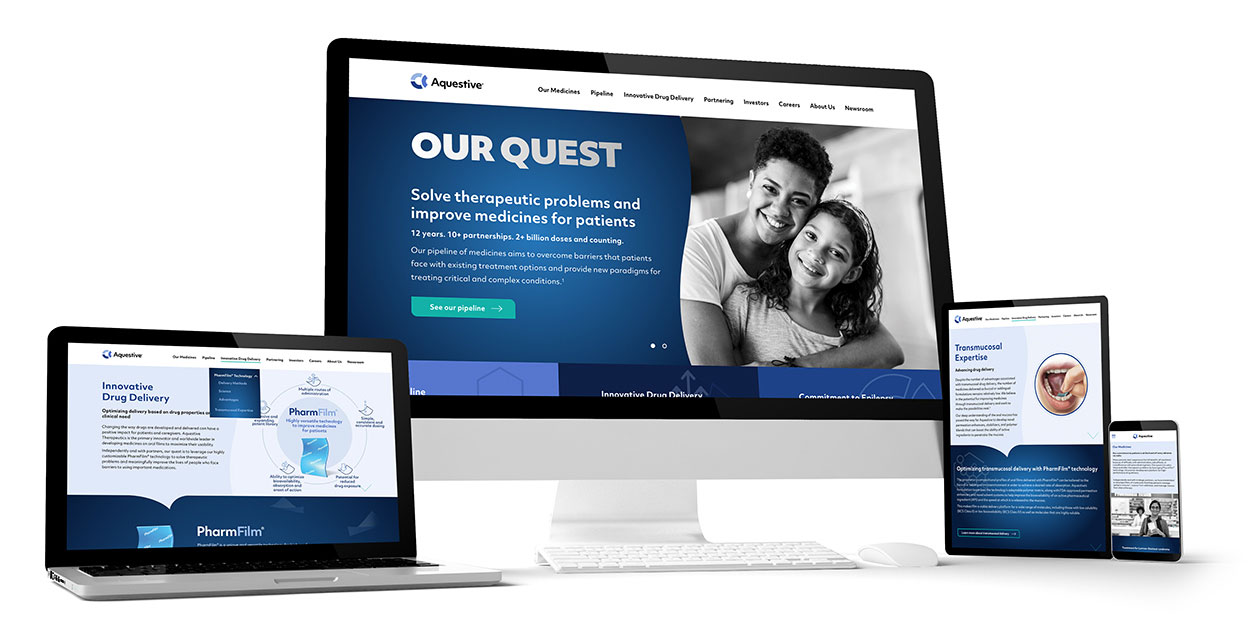 To: Arteric
For: Aquestive.com
Award: Best Biotechnology Mobile Website, Best Technology Mobile Website
Click here to see entry creative
About the Entry


Aquestive.com is Aquestive Therapeutics corporate website and product platform. The site was visually outdated, provided little insight into Aquestive's personality, included sparse details about its extraordinary PharmFilm® technology, and provided little evidence of scientific expertise. Desktop user experience was awkward, with little functionality or information above the fold. The mobile experience was unfriendly. Home page traffic was fair, but dropped precipitously thereafter. Page load speeds were dire.

Arteric revamped the content strategy and site architecture. Content was optimized for multiple audiences. Reimagined brand messaging was displayed using a mobile-first approach on a fully responsive site. Revamped photography, iconography and graphics reflected Aquestive's leadership in biofilm technology. Reconfigured content architecture improved performance metrics. Navigation to every page was reduced to 2 clicks or less and incorporated top-locking navigation to reduce scrolling.

The design paradigm was multi-faceted. Firstly, It followed the content strategy by driving the user flow for each audience to their appropriate calls-to-action via engagement with forms. A clean, simple UI made it easy for users to follow their paths of interest. Secondly, the design streamlined the Aquestive story, making it applicable to each audience and easily accessible through improved UX, which included intuitive top navigation and on-page subnavigation with anchor links. Attention to detail was given to functional design, so that user direction was easy to follow. Use of anchor links, carousels, video, infographics, photo galleries, accordions, and internal and external call-to-action links enhanced engagement with audiences.

Arteric transformed the online experience to reflect Aquestive's dramatic evolution.
Award Credits
Contributors:
| | |
| --- | --- |
| Creative Director: | Daryn Henry |
| Director of Content: | Alan Gerstein |
| Account Executive: | Monica D'Amico |
| Art Director: | Alessio Martino |
| Project Manager: | Matt Parman |
| Joe Vernazza: | Developer |
| Jeremy McAllister: | Developer |
| Lloyd McGarrigal: | Head of Technology |
| | |
| | |