WINNER!
THE WEB MARKETING ASSOCIATION IS PROUD TO PRESENT THIS 2019 MOBILEWEBAWARD FOR OUTSTANDING ACHIEVEMENT IN MOBILE DEVELOPMENT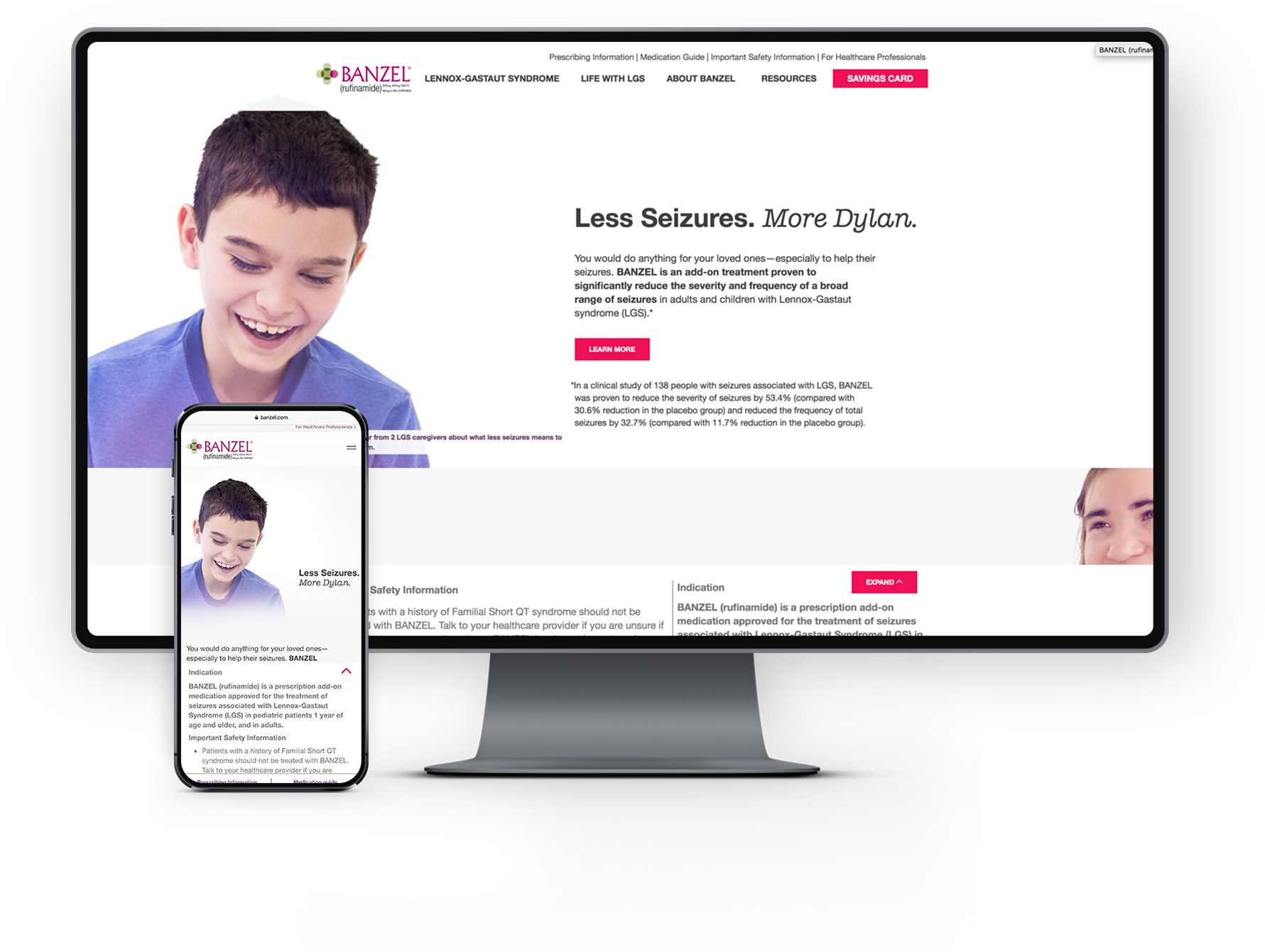 To: Patients & Purpose
For: Love Less Seizures
Award: Best Pharmaceuticals Mobile Website
Click here to see entry creative
About the Entry


Lennox-Gastaut syndrome (LGS) is a very rare and serious form of epilepsy. There are about 48,000 cases of LGS in the United States. And for those affected, the condition is devastating.

In addition to causing multiple seizures each day that can result in cognitive impairment, LGS is a debilitating disease when it comes to a family's quality of life as well. Many LGS parents devote all of their time and love to caring for their children with LGS. LGS caregivers look for ways to improve the lives of their family members, but acknowledge that their unconditional love is what keeps them going in the face of an unresolvable fate.

This intense and unwavering love that caregivers have for their loved ones with LGS is what inspired BANZEL's campaign, Love Less Seizures. The campaign promoted the outstanding results seen with BANZEL in clinical trials and also highlighted the intense love between fathers and daughters, mothers and sons, and everyone affected by LGS. The consumer website is packed with useful LGS information, helpful tips, and resources for families, but the heart and soul of the campaign is demonstrated through the visuals and voices of the LGS patients and their caregivers.
Award Credits
Contributors:
| | |
| --- | --- |
| Director, Banzel Marketing: | Fleur Lee |
| EVP, Managing Director: | Connie Maloy |
| Account Supervisor: | Nora Tibbetts |
| EVP, Creative Director: | Simon Mason |
| SVP, Associate Creative Director, Art: | Nora Travis |
| VP, Copy Supervisor: | Elizabeth Sirk |
| VP, Art Supervisor: | Nick Hartman |
| Senior Art Director: | Grant Susman |
| Art Supervisor: | Gina Pramanik |
| | |