WINNER!
THE WEB MARKETING ASSOCIATION IS PROUD TO PRESENT THIS 2012 MOBILEWEBAWARD FOR OUTSTANDING ACHIEVEMENT IN MOBILE DEVELOPMENT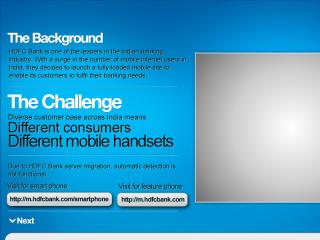 To: Thmbstrk
For: HDFC Bank Mobile Site
Award: Best Bank Mobile Website
Click here to see entry creative
About the Entry


For HDFC Bank, the brief was very precise: With the increased usage of mobile web in India, HDFC Bank wanted to roll out its mobile site as well mobile internet banking services. They were in need of a solution which could help them make these mobile internet based services accessible to all its consumers irrespective of the mobile handset they used. For this we developed a mobile site that functions across a number of platforms including J2ME, Symbian (S60, S40), Blackberry (5.0, 6.0, 7.0), Android (2.1, 2.2 and 2.3) and iOS (3.2, 4.0 and 5.0.1). The site is also optimized for varying screen sizes like Candybar (178x202), QWERTY (320 x 240) and large touchscreen (320x480). The content on the site has been specifically optimized for 'On the go' consumption. For eg: In the 'Quick Help' section, scenarios where customers are most likely to need immediate help such as loss of ATM card, card stuck inside the ATM machine etc. are featured upfront. The mobile site has seen 4 lakh visits per month since its launch and has seen 2.5 lakh unique users conduct a financial transaction via the site within the first 100 days of launch.
Award Credits
Contributors: