WINNER!
THE WEB MARKETING ASSOCIATION IS PROUD TO PRESENT THIS 2012 MOBILEWEBAWARD FOR OUTSTANDING ACHIEVEMENT IN MOBILE DEVELOPMENT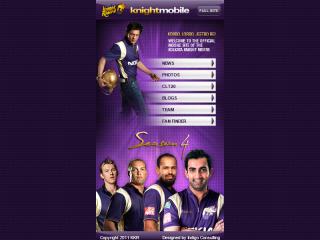 To: Thmbstrk
For: KKR Mobile Site
Award: Best Sports Mobile Website
Click here to see entry creative
About the Entry


The Strategy: Kolkata Knight Riders has a large fan base and we had to develop a WAP site that appealed to everyone. All the important elements of the website were maintained and more were added to come up with the final product. A mobile platform, though challenging, ensured that fans would experience the "KKR thrill" more. Finally, the most important part of the strategy was to offer content rich enough to keep a fan glued. The Solution: After studying the challenges before us we conceived mobile.kkr.in - a WAP site complete with blogs from sports experts, live scores and match fixtures. The most unique feature of this WAP site is the KnightFinder which helps one locate other Knights area wise. Live content in the form of match day tweets and blogs compressed the stadium into a mobile phone. Mobile.kkr.in maintains the hype long after the IPL with end of season photos, team information and videos. Results and Awards: Mobile.kkr.in received over 7000 unique views during and after the IPL. Why the campaign deserves an award: Our campaign helped bring a live match to a mobile phone in real time. A complete video and photo library ensured constant interaction, and live tweets promised constant information. The biggest reason this campaign deserves an award is that no cricketing platform has compressed and accommodated its website so seamlessly while maintaining futuristic looks and feel.
Award Credits
Contributors: