WINNER!
THE WEB MARKETING ASSOCIATION IS PROUD TO PRESENT THIS 2019 MOBILEWEBAWARD FOR OUTSTANDING ACHIEVEMENT IN MOBILE DEVELOPMENT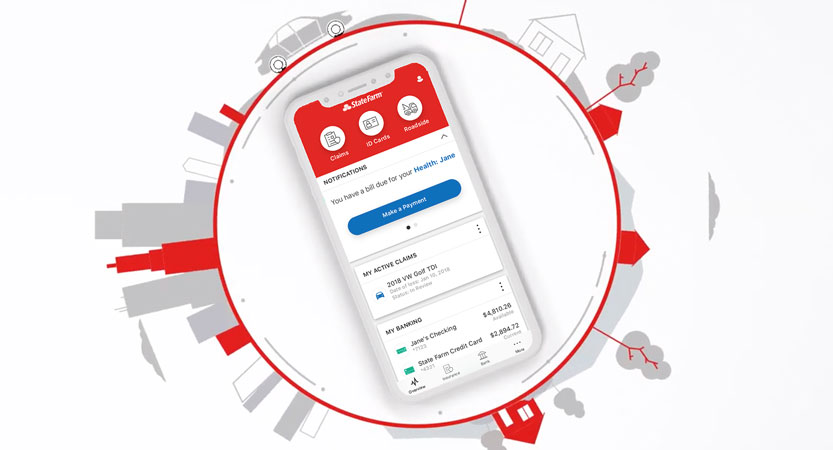 To: State Farm Mobile App 2019
For: State Farm Mobile App 2019
Award: Best Bank Mobile Application, Best Mobile Industry Mobile Application
Click here to see entry creative
About the Entry


At State Farm, we're going above and beyond for our customers by combining insurance and banking into one app, so they can complete all of their "to dos" at home or on the go. In the last year, 5.6M customers visited the app over 62M times to find information, message us or manage their accounts.

We're also using innovative technologies such as facial recognition and voice navigation to provide access to accounts, view insurance cards and get roadside assistance. And when life doesn't go right, we're there too; helping our customers manage through crucial moments by leveraging a step-by-step accident checklist. A conversational chatbot helps guide them through their claim submission, a photo capture assistant enables customers to take and upload pictures of their vehicle damage, and Siri can provide claim status at any time.

We've made banking easier too! Through the smart watch, checking a bank account balance is just a tap away. And customers are transferring funds, paying bills and depositing checks seamlessly.

And just because they're a State Farm customer, our new Community Offers program allows them to take advantage of great deals online and in their local communities. A range of merchants provides direct savings on products and services like electronics, dining, entertainment, fitness, travel and more.

At State Farm, we are committed to providing an exceptional experience for our customers.

Award Credits
Contributors:
| | |
| --- | --- |
| Enterprise Technology Executives : | Fawad Ahmad, Vijayasri Yerraguntla |
| Product Leadership : | Ramakrishna Mantha,Jeff Fietsam,Derek Krut,Matt Jaeger,Andy Reeser,Aida Najarian,Jay Matthews |
| User Experience : | Ben Schoer,Yvette Simmons,Jae Warren,Lisa Rossi,Terrence Covin,Jill McCarthy,Brian Marczak |
| Mobile Developers : | Andrew Erickson,Christian Winger,David Hughes,Pinky Desai,Rob Thurwanger,Scott Anderson |
| Mobile Developers : | Surekha Methuku,Christopher Beyler,Duane Christiansen,Eddie Koranek,Jeff Martin,Joshua Long |
| Mobile Developers : | Nick Baker,Tallyn Turnbow |
| Digital API Team : | Daniel Giger,Dave Schick,Josh Bailey,Kyle Morris,Lakshmi Darsi,Nathan Hunter |
| Digital API Team : | Sarah Robinson,Sheila Zunker,Sreeja Sreekumaran,Travis Kessinger |
| Product Analysts: | Stacy Miller,Jesse Donahoo,Brittany Devore,Dana Reibling,Colleen Stokes,Dan Tuggle,Ashley Ward |
| Product Analysts: | Edna Shelby-Lewis,Matt Clarenson,Michael Pelaccio |