WINNER!
THE WEB MARKETING ASSOCIATION IS PROUD TO PRESENT THIS 2019 MOBILEWEBAWARD FOR OUTSTANDING ACHIEVEMENT IN MOBILE DEVELOPMENT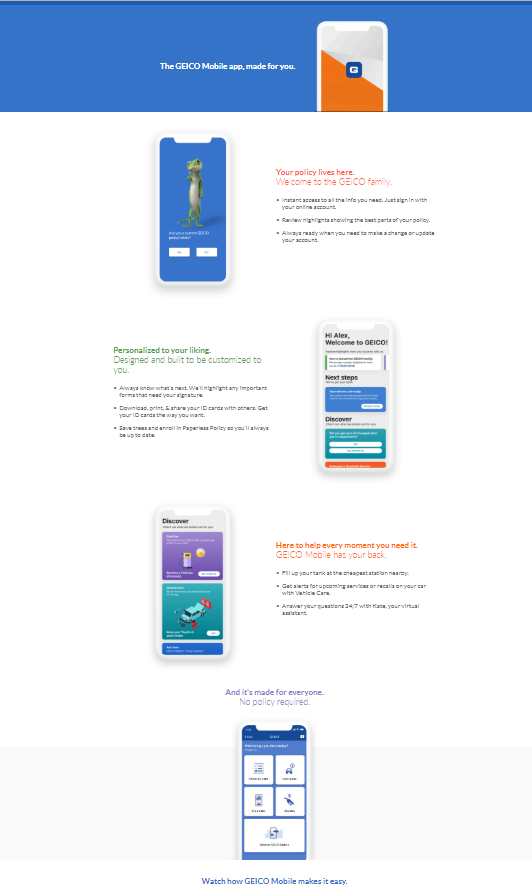 To: GEICO
For: GEICO Mobile
Award: Best Insurance Mobile Application, Best of Show Mobile Application
Click here to see entry creative
About the Entry


The GEICO Mobile app, made for you. 

GEICO Mobile is celebrating it's 10th anniversary this year, and we aren't slowing down now. We built our app to be personalized to you, every step of the way. If you're shopping or looking to learn more about our products, we make it easy to get what's right for your life. Once you're part of the GEICO family, the app will greet you by name and you'll unlock all of the features of GEICO Mobile that are made for your policy. You get instant access to all of your policy info and details, and our personalized on-boarding experience guides you through any outstanding "next steps" you may have.  You can sign any required forms needed for your state, setup your billing preferences, and discover extra features that are valuable to you. If you need a reminder to change your oil, GEICO Mobile has your back. If you need help finding the cheapest gas when your tank is low, the Find Gas feature will show you a station nearby where you can save the most. We also know stuff happens in life, the good and not so good. GEICO Mobile has everything you need to manage your policy. This year we're celebrating our 10th anniversary Whether it's adding that shiny new car you bought, or requesting roadside assistance after you got a flat on that road that hasn't been paved in years. GEICO Mobile was made to give you the best experience in the moments you need us most. 
Award Credits
Contributors:
| | |
| --- | --- |
| Mobile & Internet VP: | Steve Smith |
| Mobile & Digital Experience Director: | Pete Meoli |
| Digital Experience Manager: | Carolyn Tran |
| Mobile Managers: | Irina Sidelnikov, Gabe Jackson, Adam Check |
| Digital Experience Team Lead: | Dave Prescott |
| Mobile Development Lead: | Manohar Gottipati, David King, Jamie Sharp, John Niswander, Anthony James |
| Mobile Analyst Lead: | Juliana Hockaday, Christina Large, Brian Knight, Kelsey Coriell, Brett MacWilliams, Joe Di Pietro, |
| Mobile Product Marketer : | Madisen Farley |
| Designer: | Aleena Khan, Candice Middleton, Sharon Shalvi, John Salmon, Peter Berlin |
| | |