WINNER!
THE WEB MARKETING ASSOCIATION IS PROUD TO PRESENT THIS 2012 MOBILEWEBAWARD FOR OUTSTANDING ACHIEVEMENT IN MOBILE DEVELOPMENT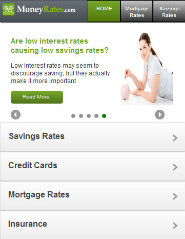 To: MoneyRates.com: Helping you make the most of your money
For: MoneyRates.com Mobile Site
Award: Best Financial Services Mobile Website
Click here to see entry creative
About the Entry


The goal of MoneyRates.com's mobile site is to be the leading source of information on bank rates, personal finance, savings accounts, and investing for people on the go. With its intuitive design, users can easily navigate to find the exact information they are looking for. The mobile website equips our audience with all the tools they need in order to properly save: current financial information, educational resources, the best money rates, expert tips, and interactive financial calculators. Our financial experts provide tips and advice on how people can easily save and make their money go even further. Using one of our many interactive calculators, users can receive personalized answers to their questions and then be matched with the most suitable bank rates depending on their financial status. Consumers can also find credit cards, mortgage rates, or bank rates that align with their needs by simply filling out one of our questionnaires. In addition, MoneyRates.com's mobile site helps consumers' savings increase by gathering the most up-to-date and highest savings rates and presenting them all in one place. Each person who comes to our site always receives tailored information when using any one of our calculators or questionnaires. Our articles and resources about various financial topics keep users educated and up to date about current events. MoneyRates.com's mobile site is the perfect place for people who want to learn how to save money, while finding the best bank rates to fit their personal needs.
Award Credits
Contributors:
| | |
| --- | --- |
| Senior Financial Analyst: | Richard Barrington |
| Managing Editors: | Ellen Cannon, Robert Beaupre |
| Creative Director: | Fran Quinn |
| Developer: | Vedant Agrawal |
| Producer: | Kristen Tom |
| | |
| | |
| | |
| | |
| | |