WINNER!
THE WEB MARKETING ASSOCIATION IS PROUD TO PRESENT THIS 2017 MOBILEWEBAWARD FOR OUTSTANDING ACHIEVEMENT IN MOBILE DEVELOPMENT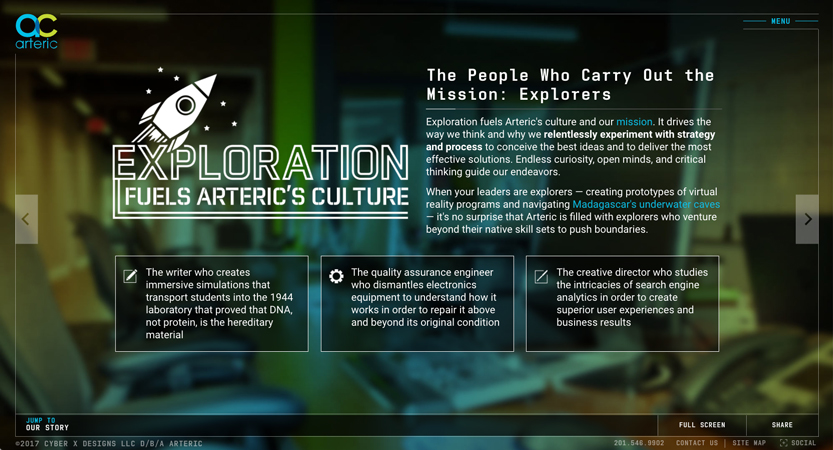 To: Arteric
For: Arteric.com
Award: Best Advertising Mobile Website, Best Interactive Services Mobile Website
Click here to see entry creative
About the Entry


Audience:
Healthcare brand managers, corporate communications teams, medical information personnel and information technology departments.

Goals:
The site defines Arteric as agency that possesses exceptional software engineering skill and future-focused-yet-practical thinking. Content and design reflect these messages.

Client value guided selection of all content. All content, whether focused on Arteric or the client's business challenge — is selected to quickly enable the reader to make a decision or take an action. All explanations emphasize "how" and "why," reflecting the Arteric focus on educating, not just informing.

On every screen, content is organized for maximum readability. Long stories are organized into quickly readable segments. Icons and other imagery emphasize the key points of the content. In this way users benefit from the high-readability and SEO benefits from the long-form content.

Navigation is provided by a highly visual, detailed-yet-concise primary menu that immediately defines destination content. Within each page, footer navigation provides a rapid secondary navigation control.
Engagement is encouraged via "Let's Talk" pop-up forms that appear throughout the site and via "Solutions Panels" accessible via the footer on the Home page.

While desktop functionality is enhanced due to screen real estate and the way a user interacts a desktop device, the content and wayfinding is maintained throughout every mobile screen size. For mobile we streamlined the sub navigation that allows user to jump directly to content that interests them.

Award Credits
Contributors:
| | |
| --- | --- |
| President: | Hans C. Kaspersetz |
| VP, Creative Director: | Ross O'Shea |
| Interactive Art Director: | Kristen Giordano |
| Digital Writer and Content Strategist: | Alan Gerstein |
| Software Development Manager: | Lloyd McGarrigal |
| Senior Front-End Developer: | Rob Szpila |
| Software Developer: | Joseph Roxbury |
| Software Developer: | Anthony Outeiral |
| Junior DevOps Engineer: | John Roman |
| Software Development Manager: | Jeff Knight |